Rachel Bilson Talks About Hart of Dixie at Summer TCA
Rachel Bilson Hits the TCA For Her Small Screen Return in Hart of Dixie
Rachel Bilson is a long way from The O.C. in her new CW series Hart of Dixie, where she plays Dr. Zoe Hart, a Manhattanite who's recently been transplanted to small-town Bluebell, AL. She visited the TCA with her costars Scott Porter and Jaime King and showrunners Leila Gerstein and Len Goldstein, and the cast and crew gave us the rundown on their new characters and some of their more difficult reptilian guest stars.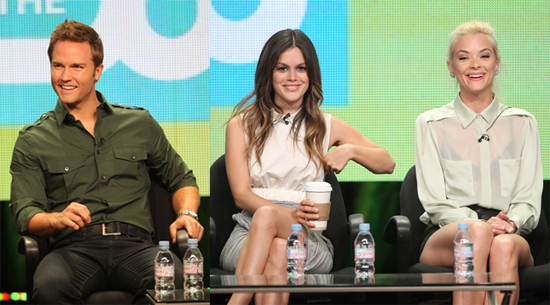 Since this is the first time Bilson has led a series, she was asked how it felt to have a whole show on her shoulders. She said that she doesn't feel any pressure "because it's a group effort and everyone is so fantastic." As for her character, Bilson says Zoe is a "very smart, independent" woman, but someone who is not very polite, nor does she have any bedside manner. Bilson says Zoe is a "fish out of water" and a New York City girl through and through — from her behavior to the wardrobe. But Zoe isn't the only character Bilson admires; she remarked that all the roles were "awesome."
Porter is best known for his role as Jason on Friday Night Lights, and he gave a sweet answer when a reporter asked how he felt about the show's recent Emmy nominations. He said it was "weird" having the show be nominated so late in the game, because he thought it was "the same caliber show the entire way through." He also expressed reverence for his costars on FNL, saying, "My master class was watching Connie Britton and Kyle Chandler interact." Still, Porter seems excited to move on, remarking "Bluebell, Alabama is not at all Dillon, Texas."
To see some photos from the panel and learn more about Hart of Dixie, including bits about King and Porter's characters and the role of country music, just
.
Porter plays George, who's kind of a love interest for Zoe . . . except that he's engaged to King's character, Lemon. The cast mentioned that the love triangle will be explored, with Porter saying that George is "a little bit conflicted, because Zoe is a window back to a part of his life in New York." For her role as Lemon, King says that she's trying to maintain a perfect image of what she thinks she should be, but Zoe's entrance into town "rocks her world."
Country music is going to be featured prominently in the show, from classic and alternative country as well as music from big and up-and-coming artists. Goldstein hopes Hart of Dixie will do for country music what other shows have done for alternative music (by the by, Hart of Dixie's music consultant Alexandra Patsavas consulted on The O.C. and Gossip Girl).
The cast joked about "Burt Reynolds," AKA the alligator who appears in the pilot. Apparently he caused some trouble, because he wouldn't do what he was supposed to. Porter said they will "speak of him often but see him quite less," though Bilson called him "the best costar ever, you guys."