With all of the hype surrounding Pretty Little Liars, we've been excited for ABC Family's Ravenswood, a spinoff starring Hanna's boyfriend, Caleb (Tyler Blackburn). We were first introduced to the bizarre, unsettling town on Pretty Little Liars, and we last saw Caleb on a bus into the mysterious place. Let's talk about the pilot, which airs tonight, and how it's shaping up to be a much creepier, more mysterious version of its sister show!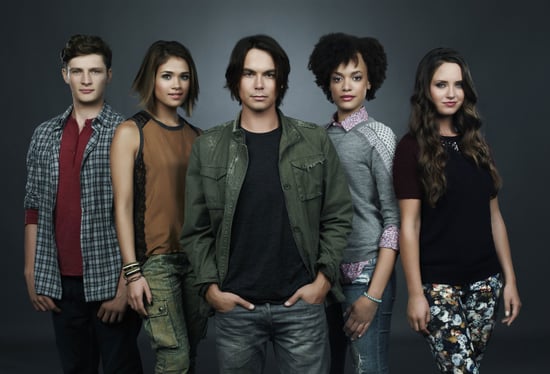 What it's about: While wandering through the Ravenswood cemetery, Caleb discovers the gravestone of a man who bears his name . . . and who looks uncannily like him. He decides not to leave until he figures out exactly what's going on, and as Caleb begins unlocking the secrets of the spooky town, he finds that he isn't quite a welcome guest, and someone's trying to prevent him from discovering his connection to Ravenswood. As Caleb begins to dig deeper, he uncovers a sinister pattern that might put him in grave danger. No pun intended.
Where it works: I love how macabre the setting is, and the fact that every character looks like they have something to hide. The scarier, more supernatural elements constantly keep me on edge while I'm watching, and I can't wait to see how the show progresses.
Where it doesn't: While I recognize the show's need to maintain a little mystery, there are a lot of new characters, and there isn't very much exposition. Sure, I was intrigued, but I felt like many crucial details were sort of skimmed over or skipped altogether. Hopefully they'll go into more detail about all of characters later.
You might like this show if: You love Pretty Little Liars, but you don't think it's scary enough.
When it's on: Tuesdays at 9 p.m. on ABC Family
Watch a preview for Ravenswood when you keep reading.