Ray Donovan TV Show TCA Interview
Liev Schreiber Talks Coming to TV For New Showtime Series Ray Donovan
Showtime has brought us many addictive dramas over the past few years, and new series Ray Donovan may be its next hit. Liev Schreiber stars as the title character: a "fixer" and private investigator who cleans up shady situations and also has a complicated family life, mainly due to his villainous ex-con father, played by Jon Voight. The cast — which also includes Elliott Gould, Dash Mihok, and The Hunger Games' Paula Malcomson — came to TCA with the showrunners to talk about the gritty new series, and why the actors wanted to participate in it.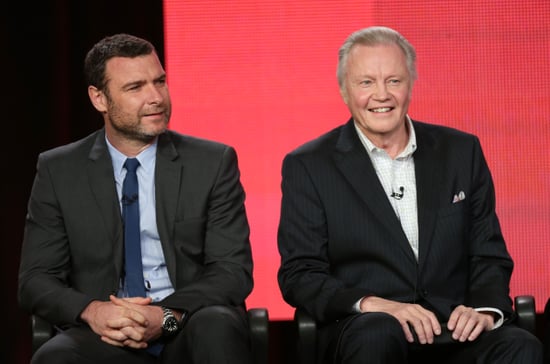 Schreiber joked about how his character Ray doesn't really talk, and he cracked, "The older I get, the more I look for less lines." Joking aside, he likes that about Ray: "It's a nice quality. As someone who feels compelled to talk more than I should, it's pretty healthy for me to play a character like this." And of coming to TV, Schreiber admitted to being daunted by the idea that he's playing a character who will grow over time. "I'm scared, but I'm excited about the process."
Malcomson, who plays Ray's wife, is probably best known for playing Katniss's mother in The Hunger Games. Malcomson compared that role to her role in Ray Donovan, because they're both mothers, but there's a big difference. Whereas in The Hunger Games, she said, "sh*t happens — she loses her husband," and her character essentially abandons her kids, in Ray Donovan, she's "all about her kids."
Voight knows that his casting as malevolent Mickey Donovan didn't come out of nowhere. "I've played some pretty strange characters. People come up to me constantly and say, 'You play such a great villain.' . . . That work probably landed me this part," he said. Not that he minds playing the bad guy. Mickey "has a lot of dimensions. I'm excited to be playing the part," Voight said.
If you happen to catch the promo for Ray Donovan, listen closely to the theme: that's Ryan Gosling. Showtime President David Nevins informed us that Gosling (who has a band, Dead Man's Bones) wrote and performed the song for the series.