The Real-Life Bling Ring
7 Strange and Surprising Facts About the Real-Life Bling Ring
Sofia Coppola's The Bling Ring tells an unlikely — but true — story: a group of suburban LA teens regularly rob a string of celebrity homes and, for more than a year, get away with it. The real-life bling ring managed to pilfer more than $3 million in clothes, jewelry, guns, and money from the homes of stars like Megan Fox, Paris Hilton, and Rachel Bilson before they were caught in 2009.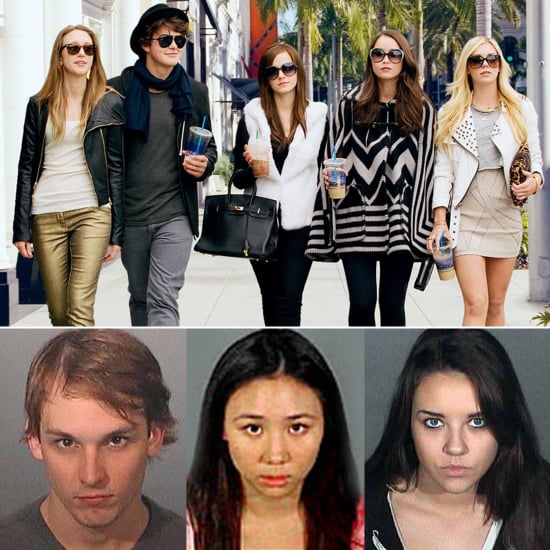 The case quickly became a media sensation. Not only did the kids target famous people, but they also seemed to want to be them, partying in Hollywood nightclubs in Paris Hilton's dresses and spending their stolen cash at celebrity-frequented boutiques like Kitson. Here are some surprising — and sometimes stranger-than-fiction — details about the case that you may not have heard:
1. They targeted Paris Hilton because she was "dumb": Nick Prugo, one of the core members of the group, later said that he and coconspirator Rachel Lee chose Paris as their first target specifically because they didn't think she was the sharpest tool in the shed. "Rachel's idea and, I guess, my idea, was that she was dumb," Nick later said in the Vanity Fair article "The Suspects Wore Louboutins." "Like, who would leave a door unlocked? Who would have a lot of money lying around? Logically anyone in America could probably figure out that if you were gonna do something to a celebrity it would be someone that wasn't, you know, that bright."
2. They're all out of jail: Despite ripping off an estimated $3 million in jewels, clothes, cash, and other personal effects, none of the members of the bling ring are still behind bars. Rachel Lee, the ringleader whom Katie Chang portrays in the movie, was released in March of last year after serving two years of a four-year sentence. Some of the more peripheral members of the group were sentenced only to probation and community service. Perhaps most surprisingly, Johnny Ajar — who resold stolen goods for the group — is apparently still living extravagantly. The convicted felon, whom Gavin Rossdale's The Bling Ring character is loosely based on, regularly posts pictures of stacks of cash, Rolex watches, and high-end meals at pricey restaurants on his Instagram feed.
For more facts, just read more.
3. They took bathroom breaks at Rachel Bilson's house: According to writer Nancy Jo Sales, whose book on the crime spree hit shelves late last month, the teens often spent a long time in the homes they broke into. In fact, she says Rachel Lee was unfazed enough to take time to use Rachel Bilson's bathroom to "have a bowel movement."
4. They actually wore stolen property to court. (Whoops): Bling Ring suspect Courtney Leigh Ames arrived to court in January of 2010 wearing a necklace that prosecutors recognized as belonging to Lindsay Lohan. The seemingly thoughtless — or brazen? — act added an extra charge to her sentence: receiving stolen property.
5. Disney's biggest stars barely escaped being burgled: According to Vanity Fair, the bling ring tried — but failed — to rob Ashley Tisdale. The group apparently bolted after discovering a friend of Ashley's in the home when they attempted to break in. They also did research on the addresses and whereabouts of Zac Efron, Miley Cyrus, Vanessa Hudgens, and Hilary Duff and considered breaking into their houses shortly before they were caught.
6. The detective who broke the case is now in hot water for appearing in The Bling Ring: The tables have turned for Officer Brett Goodkin, who cracked the crime spree. Goodkin is now under investigation by the Los Angeles Police Department for consulting on Coppola's movie while the bling ring cases were still open. Records show the detective raked in $12,500 for working on The Bling Ring, in which he makes a cameo appearance as a cop arresting Emma Watson's character. He failed to ask his superiors for permission to take on the job and is facing possible termination.
7. The thieves stole topless photos of one very famous victim: Per court documents, when detectives tracked down Rachel Lee — who had by then moved to Las Vegas to live with her dad — they found a few photographs of a topless Paris Hilton. Cops believe Rachel was confident all the evidence of the crime was hidden but had forgotten about the pictures.