Rebel Wilson MTV Movie Awards Host Review
Rebel Wilson as MTV Movie Awards Host — Awesome or Awful?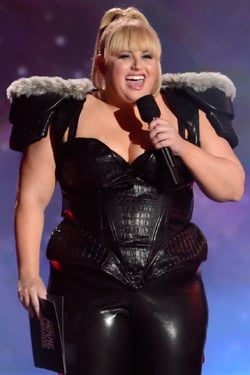 Rebel Wilson hit the stage as this year's MTV Movie Awards host, and putting it lightly, she was pretty controversial. There was no shortage of self-deprecating jokes from the Australian comic, who commented quite a bit about her own body, and she also didn't lack in crude physical comedy (including a wardrobe malfunction that exposed her third nipple).
Then again, maybe my hopes were just too high, since she was so hilarious in both Pitch Perfect and Bridesmaids. Wilson did sing, dance, and strut around the stage like she owned it, which I admire in a first-time host. Was it too much for you, or just right? What did you think of Wilson, and would you want her back next year?