Recap of 90210 Episode "The Age of Inheritance"
90210 "The Age of Inheritance": Most Scandalous Moments
90210 is obviously out to make my skin crawl. Why else would they place a lecherous teacher and an equally slimy Oscar in the same season? Both men are full of lustful looks this week, as they eyed their prey up and down (run for your lives, Ivy and Silver!). Could it be that these guys actually make Jasper look tame?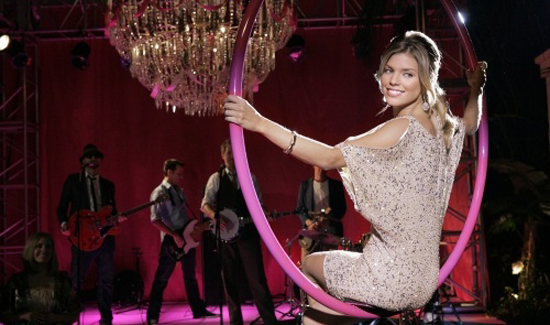 But the episode isn't just about the shady guys, it's also all about Naomi. After her trust fund finally comes in for her 18th birthday, she throws a huge shindig, plastering her face everywhere. I'm talking on giant posters, napkins, cookies, the invites — but hey, over-the-top vanity is Naomi's forte. She also hires The Honey Brothers to play for her special day, so she can flirt mercilessly with Adrian Grenier. Party aside, there were some other major moments during the evening. Let's recap when you
.
Ivy catches Dixon doing body shots with a bride-to-be. In his defense, it was a total setup on the part of bad boy Oliver. When Laurel implies that Ivy is a virgin, Oliver sees her innocence as a new challenge, giving him more reason to steal her away from Dixon. So when Dixon, Oliver, Teddy, and Navid hit up a bar, a bachelorette party "happens" to show up, and the gals ask Dixon to oblige them with a body shot. He agrees, and soon the photos are all over Facebook. Ivy's furious, but of course Oliver is there to soothe her, giving her a sob story about how he regrets losing his virginity. But here's the kicker: the party girls from the bar were actresses hired by Oliver to cause trouble. Anyone else sick of this storyline already? Not to mention the fact that a body shot for a bachelorette is definitely a trivial sin in the 90210 zip code. Forgive the guy, Ivy. It's not like he killed anyone (sorry, Annie).

Naomi tells Silver she was raped — but she doesn't believe her. It's the classic case of the girl who cried wolf. Naomi tries to convince Silver that she only put the moves on Teddy because she was drugged. Silver forgives her, until she later catches her in a lie. Now, she won't believe a word Naomi says, including Naomi's warning regarding Mr. Cannon. Silver's struck up quite the flirtation with the teacher, and he's totally manipulating her, claiming that his wife left him (boo-friggin'-hoo). So when Naomi tells Silver she was raped, she scoffs in her face. Did I mention Mr. Cannon is creepily holding on to Silver's scarf?
Annie tells off Liam and goes for a new guy. Annie meets a cute theater student named Charlie at a coffee shop who asks for her number, but she turns him down since things are up in the air with Liam. That is, until Naomi gives the couple her blessing. Annie's ecstatic, kissing Liam on what she thinks is his boat. It's all sunshine and rainbows until the angry man who actually owns the boat shoos them away and threatens to call the police. After hiding out so they don't get caught, Liam's laughing over the ordeal, which makes Annie fume. She's on probation after all! She tells him it's not going to work out and calls up Charlie to be her date to Naomi's party. But there's a twist, of course. Charlie is actually Liam's half brother! How's that for a messed-up love triangle?
Jen is hospital bed-bound. Oh cruel, cruel fate. When pregnant Jen has early contractions, the doctor tells her she'll have to stay off her feet to carry the baby to term. Shouldn't be too hard for Jen since she likes to be waited on hand and foot anyway, right? But Jen's overworked assistant bails on her, forcing Jen to call the only other person she knows: Ryan. Ryan uses her new neediness to force her into signing the paternity papers, and he says he's going to move in with her. That guy is such a glutton for punishment.
Teddy's back to drinking . . . again. Teddy tries to stay sober since he knows it bothers Silver; however, after he finds out that he's No. 1 in the state for tennis but he still can't play, he has a few beers with the boys. Silver smells it on his breath and goes running to Mr. Cannon, who appreciates her. It's official: everyone on 90210 is acting dumb in this episode.
What did you think of this week? Is Annie's new guy Charlie OK, or just another stalker in the making? How long do you think it will be until Adrianna's guilt over her stolen songs gets the best of her? Sound off in the comments!
Photos courtesy of The CW