Recap of 90210 Episode "Another Another Chance"
90210 "Another Another Chance": Most Scandalous Moments
Whew, what an eventful episode of 90210! We finally see some resolution to Naomi's whole harassment debacle, Navid and Adrianna talk once more, and a special visitor shows up in Liam's garage (no, it's not Naomi in yet another trenchcoat). Things are definitely starting to shake up for the Beverly Hills kids — Dixon even embarks on a new relationship.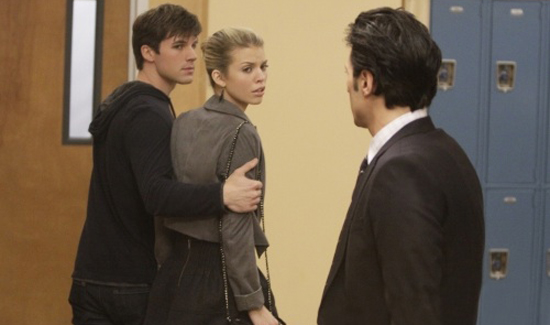 The highs: Gia pulls a stunt that totally had me shocked, and I love a good twist. The lows: Ivy's mom needs to stop corrupting Mr. Matthews. Gross. Let's break it all down (warning: spoilers) when you
.
Dixon and Ivy sitting in a tree . . . Dixon and Ivy may have been pretending to be dating, but their true feelings are blatantly obvious — Dixon is crushing hard, but she can't stop whining about Liam. Awkward moment of the night: Dixon teaches Ivy to DJ by interlacing his fingers with hers (and speaking in a low, soft voice, of course). Anyone else cringing? But when Liam tells Ivy to shove off yet another time, she agrees to a date with Dixon. Guess he doesn't mind playing second fiddle, but this relationship still has me confused. How about you?

Ivy's mom gets Ryan stoned. Ivy's "chillax" mom, Laurel, makes me squeamish, especially when she's trying to get Ryan naked with Ivy nearby and in the car . . . again (can they not find someplace else to get it on?). She gets him to relive his "wake and bake" days, even though he freaks about his students finding out.
Naomi fesses up! After her harassment claim escalates, Naomi faces the school board and admits that she lied. Everyone at school except Annie turns on her; Liam can't even stand to stay with her (oh, and did I mention that just five minutes before he told her he loved her?). Speaking of Liam, his dad (Luke from Gilmore Girls!) reappears after leaving jail. Surprise!
Navid and Adrianna reconnect — and their current partners aren't pleased. Navid sees Adrianna and Gia kissing, so he confronts Gia to ask if he turned Adrianna gay — 'cause, you know, he's "confident with his skills between the sheets." TMI. Gia laughs it off, but as soon as Adrianna confides in her ex about her record offer, Lila and Gia turn jealous. Unfortunately, only one couple survives the road bump. Navid wins Lila back with a tux and twinkle lights (major cheese, but hey, it works), but Gia cheats! Adrianna walks in while Alexis is still in Gia's room, and she leaves for the coffee shop — where she encounters Navid, coincidentally. Do you think these two are going to get back together?
Annie and Silver dress like hoochies to borrow a car. Their whole Thelma and Louise thing with the gaudy gold jewelry is pretty ridiculous, but it gets them a free ride. They go cruising, until Annie has flashbacks and freezes as they approach the spot where she hit Jasper's uncle. Later on, she has a nightmare where the uncle's face is on posters around her room. At first, I thought it was real, Jasper prank — didn't you?
What'd you think of the episode? Sound off in the comments, or head over to the 90210 Superfans group in the Buzz Community to chat some more.
Photos courtesy of The CW