Recap of 90210 Episode "Catch Me If You Cannon"
90210 "Catch Me If You Cannon": Most Scandalous Moments
Can we put the Mr. Cannon storyline to rest, please? I'm over the cat and mouse game, and on this week's 90210, the girls try to catch the slime-ball teacher only to have him outsmart them again. You know what that means — at least one more week of his leering. Ick.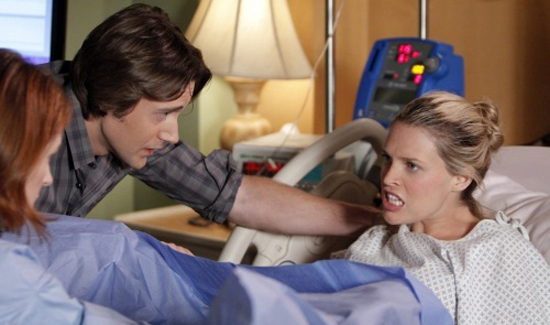 Luckily, things are moving much more quickly with the rest of the characters. Dixon takes an HIV test, Annie puts the kibosh on egg donation, and Jen has her baby! Let's review the highlights when you
.
Mr. Cannon pulls a fast one on Silver. Silver does her best to lure Mr. Cannon into a trap; first, by telling him that she broke up with Teddy, and then by suggesting that the two of them rendezvous to work on her senior project at a hotel (dot, dot, dot). He agrees, so she, Adrianna, and Naomi plot to have a camera catch him red-handed. But there's a twist! When he shows up, he brings along the principal and a psychologist, out of fake concern that Silver is having a bipolar relapse. Her plot is foiled for now, but Silver's determined to have the last word. She marches up to Cannon at school and declares that the girls have a plan cooking that's sure to get him caught — the only thing is, she hasn't actually thought of it yet.
Jen gives birth! Lord, help us all. In the middle of hiring Debbie as her assistant and after making a few questionable remarks ("Yuck, who wants a chubby baby?"), Jen's water breaks. Ryan shows up to the hospital for the delivery, just in time for Jen to yell at him and everyone else on staff for her pain. But then the child arrives — a boy, not a girl. Oops. Jen's not happy over the pink nursery she just had painted, but despite her complaining, there may be humanity in her after all. As her new baby and baby daddy sleep beside her bed, she reaches out to give them a tender touch. Welcome to 90210, baby Jacques/Jack.

Teddy can't, um, perform while trying to convince himself he's straight. Denial, denial, denial. During detention with Ian, Teddy continues to put on his tough act while the two guys clean out the school's gutters, and he finally apologizes for his hateful name-calling. Ian responds nicely, assuring Teddy that he's been there (as in, the closet). Teddy storms off over what Ian's implying, and next thing we see, he's trying to get it on with one of the hussies at school. Key word being "try," if you know what I mean. Teddy, your body is trying to tell you something.
Dixon's HIV results are revealed! After Sasha tells Dixon that she's HIV positive, he goes to get blood work done. The doctor's office calls, saying his lab results are in, and the doctor wants to speak with Dixon. Dixon naturally assumes the worst, so when Ivy shows up at his house, he tells her he has feelings for Sasha and wants to break up. Better to hurt Ivy than have her know the truth, right? In Ivy's moment of heartbreak, Oscar swoops in, feeds her lines, and, well, gets in her pants. But wait! When Dixon meets with his doctor, he's not positive after all! Too bad the damage with Ivy has already been done, as she wakes up next to a naked Oscar.
Debbie finds out about Annie's egg donation plan. When Annie brings home a needle to inject herself with hormones, Debbie comes across it and confronts her daughter. Annie explains the reasoning behind it, and Debbie's furious about her taking on such responsibility. The two duke it out with harsh words, but nothing really gets through to the teen until she later holds Jen's baby. She decides to abandon the egg plan, but here's a thought: now that she's already fussed with her hormones, and Charlie is trying to have sex with her . . . will she end up pregnant? Chew on that.
Were you surprised to see Cannon one-up Silver? Do you think Jen may turn into a good mother after all? Where are Navid and Adrianna? Weigh in below, and be sure to swing by the 90210 Superfans group in the Buzz Community!
Photos courtesy of The CW