Recap of 90210 Episode "How Much Is That Liam in the Window"
90210 "How Much Is That Liam in the Window?": Most Scandalous Moments
Secrets are coming out left and right on this week's 90210: Jen finds out about Naomi, Navid discovers what Adrianna's been hiding, and Ivy gets smacked in the face with Oscar's own little revelation. Ouch. The truth hurts doesn't it?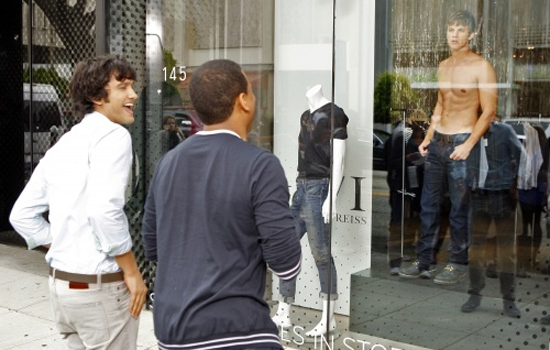 Meanwhile, Liam lands a new job selling his pecs jeans at a retail store, and of course the boys can't pass up the chance to ridicule his new gig. Ready to cover the night's big moments? Just
.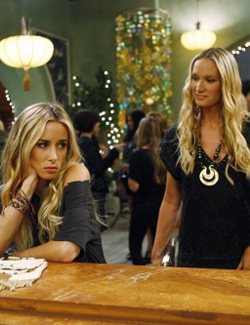 Oscar drops a bomb. After Ivy wakes up next to Oscar in her post-coital bed, Dixon shows up to make amends. Ivy wants to work things out with her boyfriend, but she's scared to tell him about her night with Oscar. Oscar, meanwhile, announces to Laurel that he slept with her daughter, to which Laurel asks him to keep his mouth shut about their sexual trysts. For a split second, I actually thought that Oscar might honor her request (didn't he appear somewhat sincere?). Oh, but no. Oscar pulls a fast one, revealing his history with Laurel to Ivy — in front of mommy dearest no less. The reasoning behind his scheme: Laurel had an affair with his father that eventually led to his mother's death. Old grudges die hard.
Adrianna strips down for a photo shoot. Adrianna's skeezy manager wants her to do some topless pics for a magazine. At first she fights him on it (and needless to say Navid is not happy with the idea), but she's coerced once Victor reminds her of his blackmail on her. Silver and Navid overhear their conversation thanks to Silver's documentation (she's videotaping Adrianna for a project), and Navid convinces his girlfriend to leave her rep. She agrees — that is, until she lands the magazine cover. Anyone else think that Navid and Adrianna are headed for a rough patch? He's been so understanding, but this could be the final straw.
Jen uncovers Naomi's secret. Naomi and Silver visit the new mom after some convincing from Ryan, but when they go upstairs to the baby's room (with the baby monitor), Jen overhears the girls talking about Naomi's rape. Suddenly Jen goes into supportive sister mode. She tells Ryan about the conversation, and he recalls overseeing Cannon and Naomi the night of the incident (but he was too busy crashing his car into the school sign). He promises to come forward, even if it costs him his job. I'm counting down the days until Cannon gets his comeuppance, and now with Jen leading the charge, he's really going to have hell to pay!
Charlie has a dark side. Annie is completely smitten with her new boyfriend, but his new play raises a few concerns. When she secretly stops by to sit in on a reading of the script, she discovers that her brilliant Charlie has quite the twisted streak (one student aptly calls him "Tarantino on steroids"). She asks her friends, "Do I give off some pheromone where dark, disturbed guys are drawn to me?" A resounding "yes," Annie! But when she spots Charlie handle an altercation peacefully, Annie decides that he's not so violent after all. Perhaps Charlie is actually more of a victim? Later on as they're making out, she discovers a brutal scar on his back (Liam has a similar one) that's from his childhood.
Liam gets a new job, new digs . . . and a stalker. Who says money can't buy love? Certainly not Laura, Liam's new biggest fan. When she spies a shirtless Liam working at the local shop as tween man-meat, she convinces her mom to offer him a job — at their house, of course. Liam just thinks that the mom is a kind Samaritan (she even lets him move into their pool house), until Laura pops up in his new bedroom. This girl is a little nuts, but I sort of love her unbridled enthusiasm and Twilight references.
Did you like this episode? What do you think of Liam's new "love interest" Laura? Do you like seeing Jen turn so supportive for Naomi's sake? Weigh in below, and then click on over to the 90210 Superfans group in the Buzz Community!
Photos courtesy of The CW