Recap of 90210 Episode "I See London, I See France"
90210 "I See London, I See France": Most Scandalous Moments
Drug deals, porn stars, police arrests — it's just another day in the 90210 zip code. The kids of West Beverly High are living it up at the Undies, a student-appointed ceremony to honor classmates with the worst behavior. Meanwhile, at the tamer school-approved achievement awards, their studious counterparts (Navid and Silver) compete in categories like English and math. But as they all come together for the afterparty, some major drama goes down that's sure to get a couple of our favorite characters in trouble.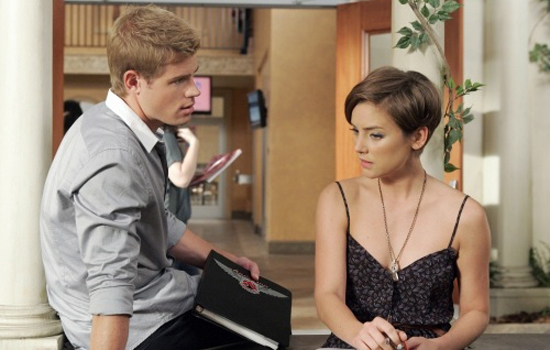 As that builds, Naomi is handling a mess of her own: Mr. Cannon. She takes a giant leap with her case that looks certain to put him behind bars . . . but when? She also strikes up a friendship (romance?) with someone you might not expect. Let's review when you
.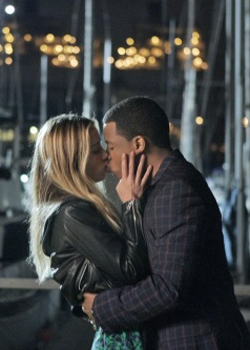 Laura's not as innocent as she seems. Now that Liam is practically her man servant, Laura has him tote around handbags to sell to fellow classmates. Liam gets flustered with his manliness in jeopardy, but he has no idea what he's actually in for. Turns out, young entrepreneur Laura is using her business to peddle cocaine! She's annoying, yes, but a delinquent too?!
Ivy tells Dixon the truth. But not before forgiving him for the Sasha confusion, getting back together, and then skirting around the Oscar issue. When she finally breaks down and admits that she slept with her former housemate, Dixon walks away hurt, leaving Ivy all by her lonesome. Even so, I have a feeling these two will reconcile.
Mr. Cannon's caught! Well, almost. With Ryan by her side at the police station, Naomi presses charges, and Cannon gets suspended due to the investigation (unfortunately, so does Mr. Matthews). It's a small victory, but Naomi still needs evidence. Oscar to the rescue! He realizes that Cannon is lying about his hometown, so he does some investigative online snooping with Naomi. Voilà — not only does he have a history of sexual assault, but his name isn't even Cannon! The police descend on his house to make the arrest, but when they arrive, he's already fled. Do you think this is the last we'll see of Cannon? If you ask me, Naomi should probably watch her back.
Navid's porn king dad may be in a heap of underage trouble. First Adrianna tells Navid that she's keeping her manager. Then his competition for his achievement award — an annoying classmate named Harper — won't stop talking trash. Navid, being the nice guy he is, takes himself out of the running for the award once he realizes that Harper's dad is a grade A jerk. But then he discovers that a new girl at school is actually a "star" from one of his father's porn films. Will his dad go to jail? Will Navid break up with Adrianna? Whatever happens, Navid's storyline just got a whole lot juicier.
Teddy's angry like always. Seriously, can we stop the Hulk-like outbursts? When a rumor spreads that he's "trying to shoot pool with a rope," Teddy gets self-conscious about his sexuality. He tries to reconcile with Silver to smooth things over but when she turns him down, he gets stoned to manage his feelings . . . and then drives a car with his friends in the passenger seats. I'm over his acting out, how about you?
Did you like the episode? Would you like to see Silver and Navid get together? How about Oscar and Naomi? I actually think they could make a pretty hot couple. Weigh in with your thoughts in the comments, or check out the 90210 Superfans group in the Buzz Community to chat more!
Photos courtesy of The CW