Recap 90210 Episode "Meet the Parent"
90210 "Meet the Parent": Most Scandalous Moments
Confession: I really like Annie. It probably comes as a shock since she's always been kind of annoying, but recently, they're making her sympathetic and somewhat noble to boot. This week on 90210, she's confronting her parents about their problems, and even when she could have Liam on a silver platter, she opts to stay loyal to her friend Naomi. Of course, it's all just a matter of time before she hooks up with Liam and Naomi drops her like a hot potato, but till then, can't we just savor how likable she is right now?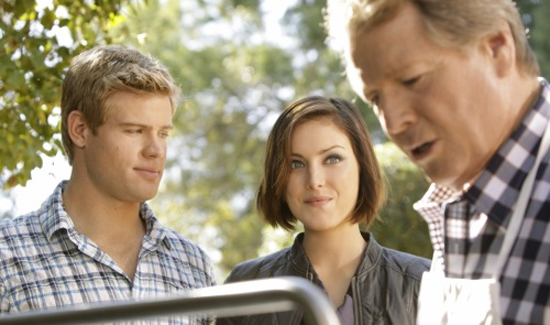 Actually, Annie isn't the only one with family issues this week. Teddy tries to introduce Silver to his dad (who, let's just say, isn't the warmest guy), Liam's father is being super shady, and Jen is pulling Naomi along like she's her own personal puppet. Lots of drama in this episode, but here are the highlights when you
.
Jen manipulates Naomi for cash. As we saw last week, Jen is back and out for revenge on Naomi. She threatens to kick her out of her own house, which makes Naomi go ballistic. Naomi decides to fight fire with fire (despite Liam warning not to), so when Jen asks her to make peace by having dinner with her and her husband, Olivier, Naomi shows up and spills all of Jen's past indiscretions. Olivier angrily flees and hooks up with the first woman he finds, but surprise — that's just what Jen was betting on. Now, she can divorce him and rake in the cash. Jen totally used Naomi, and even worse, she lied to their father about Naomi's finances, so now he's put Jen in charge of Naomi's wallet. Yikes, that's sticking it to her where it really hurts.
Teddy's father wants him to dump Silver. After the whole kerfuffle with Teddy's dad not knowing about Silver, he offers to introduce them over dinner — which ends up being a barbecue with everyone in the family, including Teddy's father's 20-something girlfriend and his therapist. He doesn't take a shining to Silver at first, saying that he hates journalists, but when she admits one of his movies was terrible, he warms up to her for her honesty. Don't go getting all excited yet though, because he still wants Teddy to dump her. His reasoning: Teddy can't focus on his tennis career if he has a girlfriend sucking up his time. His advice doesn't seem to matter though, because after Teddy wins his match, he realizes how much tennis doesn't actually matter — so he tells Silver he loves her. All together now: awwww.

Navid dumps Lila. It all begins when Adrianna is asked to duet with Javier, a hot young pop star. She offers to pen a song for them, but when she hits writer's block, Navid takes her to the pier to clear her head via some carnival rides. It's there that they cross paths with a wasted Mr. Matthews, stumbling along after bumping into Jen and indulging in a drunken binge (someone's headed to rehab soon). But going on their merry way, the exes have a great time, and Navid realizes he still has feelings for her. So he goes back to Lila, admits that he's not over Adrianna yet, and gives her the whole "you're a great girl" spiel. And they break up.
Adrianna has a new celebrity boyfriend. So much for Navid splitting with Lila, because when he shows up to the recording studio (with flowers!) to win Adrianna back, Javier is already putting his suave foreign moves on her — and she's eating up the attention. Navid walks away dejectedly, but I have a feeling this is just a small roadblock for him and Adrianna, just you watch.
Liam's dad takes the money and runs. Yeah, like we didn't see this one coming. Those coins that Liam gave him last week to get his tackle shop started? Seems that his father took them and skipped town again. Liam broods and tries to seek comfort from Naomi, but she's too wrapped up in Jen drama to give him the time of day. You know what that means — he's only one step closer to hooking up with the equally troubled Annie.
Debbie and Harry reveal their issues. Annie finally confronts her parents about what she overheard, and they admit to her and Dixon that they've been seeing a counselor. Annie's distraught and wants to talk it over with Dixon, but he instead turns to Ivy (who has been hiding in his room during the whole parental conversation). Without anyone to turn to, Annie goes to Liam's to blow off some steam by working on his boat together.
What'd you think of the episode? Are you glad to see Navid and Adrianna being all chummy again? Were you happy over Silver and Teddy's "I love you" exchange? Sound off below, or head over to the 90210 Superfans group in the Buzz Community!
Photos courtesy of The CW