Recap 90210 Episode "Mother Dearest"
90210 "Mother Dearest": Most Scandalous Moments
As the Wilson siblings start applying to college on this week's 90210, we're treated to a Grey's Anatomy-esque voiceover from Annie as she reads from her application essay. Its message is about how the little moments in life are the ones that change us the most. The idea is nice, except that this episode's are anything but small. Adrianna celebrates her magazine debut, Navid takes down his father's business, and one character leaves!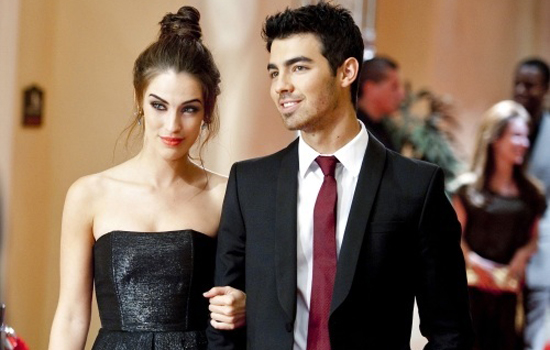 On a more minor note, the show is finally getting its dirt bag quota under control. First Cannon fled last week, and now Oscar and Victor are receiving their comeuppances so we can all breathe a sigh of relief. Ready to recap the night's biggest surprises? Just
.
Adrianna finally puts manager Victor in his place. Victor convinces Adrianna to ditch Navid as her date for her magazine party in favor of Joe Jonas. She goes along with Victor's publicity stunt and Navid is understandably miffed; however, as Adrianna walks the carpet, she realizes just how famous (and therefore, powerful) she is, so she takes matters into her own hands. She pulls Navid in front of the cameras, introducing him as her boyfriend. And when Victor gets angry, she basically tells him that he needs her more than she needs him — and she's cutting his pay to five percent. As Liz Lemon might say, ya burnt, Victor!

With Silver's help, Navid spies on his father's business. He gets Silver to go on an "audition" for one of his dad's porn movies, where she learns that Mr. Shirazi doesn't care whether his employees are legal. Navid confronts his father, but he yells at Navid instead denying the accusations. Navid, in turn, reveals the truth to his guidance counselor . . . and she tells the principal. Uh-oh. To further complicate matters, Navid and Silver almost kiss! I definitely like Navid better with Silver than Adrianna, so it'll be interesting to see how this new love triangle plays out.
Harry Wilson moves on. When an envelope shows up addressed to Debbie, Dixon accidentally opens it to discover divorce papers. Still hoping to get their parents back together, Dixon and Annie show up at their father's new place. But when they knock on the door a "friend" answers named Katie. They report the information back to Debbie who pretends that she's known about their father's secret girlfriend all along. Incredibly hurt, she leans on Ryan, slowly beginning their future romance (did you see those promos for next week?!).
Jen abandons her baby. Despite her best efforts to have a well-dressed child (leather baby pants!), Jen's maternal instincts are non-existent. After some fellow mommies make her feel incompetent (and she mistakenly steals one of their children), Jen reaches her breaking point when Jacques accidentally falls off the changing table. Ryan calms Jen down for the time being, but later, he discovers a note from Jen saying that she's left since she's a bad mother. My guess is she'll return right as Ryan and Debbie get serious.
Naomi and Ivy team up to take Oscar down. Talk about unlikely allies! When Ivy sees Naomi talking to Oscar, she tells her former enemy about Oscar's evilness. It looks as if Naomi hasn't really heeded the warning, as she flirts with Oscar at the magazine party and suggests they go skinny-dipping. But as soon as he's naked in the pool, Ivy appears. Gotcha! He begs Ivy for forgiveness, but his plea doesn't stop her and Naomi from walking off with his clothes and turning on the pool lights, so everyone can see his "cocktail frank" (Ivy's words, not mine).
Did you like the episode? Do you think Naomi and Ivy might actually, like, hang out? Do you prefer Adrianna or Silver for Navid? And did you miss Teddy? Get talking in the comments below or check out the 90210 Superfans group in the Buzz Community!
Photos courtesy of The CW