Recap of 90210 Episode "They're Playing Her Song"
90210 "They're Playing Her Song": Most Scandalous Moments
Nicely done, Mrs. W! Debbie and Ryan get particularly close in this week's 90210 (as if this photo didn't tip you off). But unfortunately they're the only ones generating much heat. Adrianna and Navid are on very shaky ground, while Annie's doing her best come-hither tactics to lure in Charlie — until his roommates get in the way. As for Teddy, he's battling with his own sexuality as he drops in at a gay bar to test his feelings.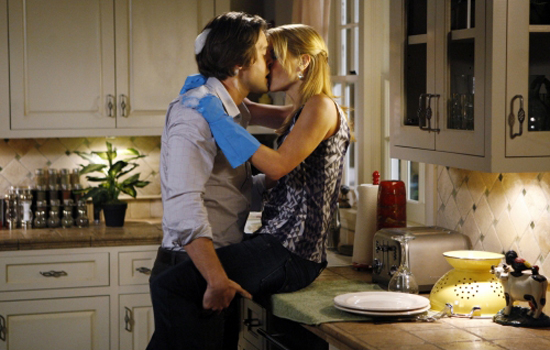 It's not exactly the most eventful episode, but the writers are definitely setting us up for big things. I can't wait to see what happens when Teddy comes out or when Navid and Silver kiss for real. Please, let it be soon! For now, let's get down to it when you
.
Teddy visits a gay bar. After a waitress practically throws herself at conflicted Teddy, he heads to a gay bar out of curiosity. (Note that he gets in without showing I.D. Could it be because he's over 30 in real life?) When a guy hits on him inside, Teddy tries to bolt — but he didn't bring his wallet and can't pay for his drinks. He calls Ian to drive him home and confides to him that the reason he quit boarding school wasn't because of girls. Actually, he left because he started to have feelings for his male roommate. Though the moment between the guys ends there, I'm glad to see Teddy opening up.

Annie tries to lock down Charlie with lingerie. After Annie meets Charlie's roommies — including his ex, Julia (Franny from Greek!) — she's feeling intimated. At the advice of Naomi, she decides to lock down her beau, which is basically code for sex. The girls go through underwear possibilities to prep (pasties in high school, seriously?). Once at Charlie's place, Annie strips down in the bathroom to her black underthings to surprise him. But the surprise is on her, as she opens the door in her skivvies only to see all of his roommates. Oops. She and Charlie have a talk, and he reveals that his huge scar is from his (and Liam's) alcoholic uncle.
Debbie and Ryan get it on in the kitchen. When Ryan needs parenting help, he calls upon Debbie to babysit. And he's appreciative to say the least! After showering the recent divorcee with some compliments, he goes in for a kiss and soon the two hop on the kitchen counter. I like the idea of this couple in theory, though it's a little strange to see them together. Your thoughts?
Navid's dad gets subpoenaed. After Navid told his guidance counselor about his father's child pornography, the authorities start investigating his business. Navid's dad is furious at his son, but instead of facing possible jail time, his father flees back to Iran! So is that it? Case closed?
Adrianna out, Silver in? With his family falling apart, Navid tries to confide in Adrianna, but she's too caught up in magazines and interviews with Ryan Seacrest to care. Even when they try to have an intimate dinner, Adrianna's publicist swoops in with her entourage. So what's a guy to do when his girlfriend won't listen? Why, he turns to girl No. 2 of course. Navid shows up to Silver's house to talk things out. Honestly, if he dumps Adrianna, the fame glutton deserves it.
How'd you like the episode? What do you think of Ryan and Debbie together? Chime in below or head on over to the 90210 Superfans group in the Buzz Community!
Photos courtesy of The CW