Recap of 90210 Season Premiere "Senior Year, Baby"
90210 "Senior Year, Baby": Most Scandalous Moments
"Normal is great. Normal is all I want this year." And so kicks off a new season of 90210 as Annie declares her goals for senior year — but "normal" it isn't. Within the first half hour of the season premiere, we're treated to an earthquake, underage drinking, a sex dream, a Kardashian sister cameo, and a character's death (and let's not overlook Silver's new short haircut!). But perhaps this is normal, for the kids of Beverly Hills anyway.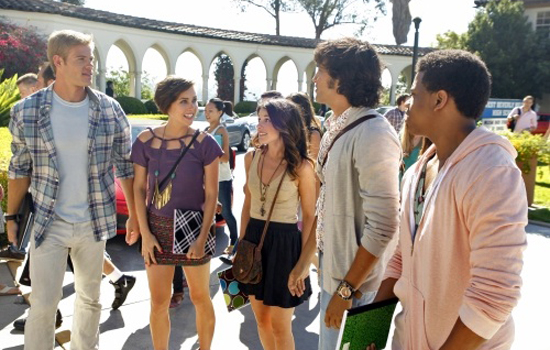 I've been waiting all Summer for the show to return, so let's not put this off any longer. Jump right in to the big events of the evening when you
.
Javier is dead. For reals. The teen pop Casanova lets out his inner slimeball in the back of a limo with Adrianna (she went on tour with him, but decided to stay with Navid long-distance). After she refuses to let him put his mitts on her, he tells her she's out of the tour — and the label — and shoves his new non-Adrianna song lyrics in her face. But karma is a b*tch when a car crashes into the side of their vehicle, and Javier is killed. Adrianna stays upset over the loss . . . for about two minutes. She swipes the book of hit lyrics with the intention of passing them off as her own.
Naomi was raped. Last we saw Naomi, she was stuck in the classroom with Mr. Cannon as he attacked her. I had hoped Naomi would escape or Mr. Matthews would save the day (whatever happened to the school fire, anyway?). Instead, Mr. Cannon did rape Naomi, which is revealed through a set of flashbacks midearthquake. Since then, Naomi's been camping out in a motel, but her personality has gone into hiding too, and she's determined to bring back her old sassy, sexpot self. At a senior party, she gets wasted and strips for her fellow male classmates until Teddy arrives to talk some sense into her. Teddy might want to be careful though, because Cannon has his eyes on his girl Silver next.

Annie and Liam finally have at it. Liam and Annie make out! Poor Annie had a wicked season last year and a brutal Summer, between her parents' divorce and staying under house arrest for her hit and run. But she's starting fresh as a senior with a new honesty policy and a dream internship, thanks to Mr. Matthews. He writes her a recommendation, and even though she spills about her saga at the interview, she still gets hired. Also, Annie and Liam kiss (anyone else find it odd that he's working on his car in the company's parking lot?). He's obviously into it, yet Annie pulls away, because she doesn't want to hurt Naomi. I doubt that will last, but got to give her props for willpower.
Ivy's new teenage house guest is sleeping with her mom! Gross. Ivy (or should I say Gidget?) brings a souvenir back from Australia: her childhood friend Oscar. He's living with Ivy and Laurel while he repeats his senior year at West Beverly, but Dixon picks up on the guy's underhanded vibe right away. Dixon tells Ivy that he doesn't like her new companion, which of course makes her fume — until a sex dream about Oscar makes her realize that Dixon's concerns aren't unwarranted (using an earthquake as a euphemism for orgasms? So cheesy!). Suddenly, Ivy is very aware of her temptation, but what she doesn't know is her mother is already sleeping with him. I'll say it again: gross. Oh, and to make things more complicated, Dixon also tells Ivy that he loves her.
Is Teddy going to pull a Don Draper? He sure is starting to hit the booze hard. After the furniture falls on his leg during the earthquake, he takes a fall during a tennis match and tears his ACL. Stuck on crutches, he throws back a few on his way to the senior party. Silver calls him out on his drunkenness, but he only replies by offending her with a biting remark about her own lack of talent. Trouble in paradise, though it's kind of inevitable. I'm just waiting for the episode where he comes out of the closet.
What did you think of the premiere? Did it satisfy after the long Summer wait? What do you think of the new guy Oscar? Spill your thoughts in the comments!
Photos courtesy of The CW