Recap of The Bachelorette, Plus Video of Ali Fedotowsky Confronting Rated R
Bachelorette Breakdown: Ali Body Slams The Wrestler
We're finally nearing the last few rounds of The Bachelorette, which means Ali has to seriously clean house. On this week's episode, Ali and the boys traveled to Turkey, and within minutes, Justin was already going home. It was the biggest turn of events that we've seen so far this season, so we — Très and Buzz — could not wait to gab about the drama. Read on for our take, and then weigh in with your own observations in the comments!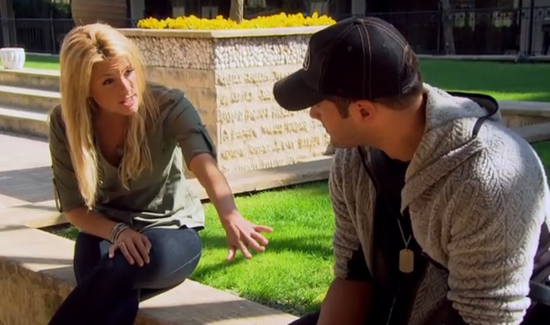 BuzzSugar: Justin is totally busted! I had an inkling it was him who had a girlfriend, but I was surprised that they started off the show with his ordeal instead of building up the suspense. Could you believe he just took off with his luggage instead of trying to defend himself at first? For someone who's a wrestler, that was a weak move.
TrèsSugar: The Justin confrontation was my favorite moment of the season so far! I loved that she called him out in front of the guys. Their giddy reactions cracked me up. Although, I think Ali had zero feelings for Justin. Instead of getting sad that he had a girlfriend, she just got pissed. She probably kept him around for entertainment/ratings purposes, so in a way they were using each other. And what could be more entertaining than Justin making his getaway through planter boxes, in the middle of Turkey, with a walking boot on his foot? He had a total meltdown, trying to walk into a closed restaurant and telling Ali "don't touch me."
For more of our thoughts, including a video of Rated R's exit,
.
Buzz: Let's not forget the voicemails! Um, "I'm in Iceland" — Justin's caught red-handed! Onto my other favorite moment of the night, I found it pretty amusing when the guys had to roll around with the burly Turkish men. Even though the idea of literally fighting for Ali seems barbaric, watching them squirm as they were getting greased up with olive oil was a highlight of the night. Kirk never looked so happy! And who would've thought Craig would come out the winner? That guy has been sitting back for multiple episodes, but he finally showed his competitive side.
Très: Craig did step it up when it came to olive oil wrestling, but totally failed when it came to making a move on the solo date. Craig is a nice guy and was having a good time with the other dudes, but like you said last week: no kiss at this point, no way you're making it. Still, I would have liked to see Craig stay over Ty. I could not believe Ty admitted that he got a divorce because his wife wanted to work outside the house. That's totally opposite of what career-girl Ali stands for. I think she gave him a rose because she didn't want to punish him for being honest, but he's a goner.
Buzz: I know! Ty may seem sweet, but that was probably the dumbest thing he could say to Ali. At least he admitted that he's grown up some since then, but it's a red flag for sure (even though I did like his Risky Business tribute). Ty will be lucky if he lasts past next week. OK, I'm dying to discuss Frank, because the spoilery ABC promos have me doubting the guy now. But what did you think about his one-on-one date? Good luck carrying that rug back on the airplane!
Très: Frank never really did it for me, so I won't be too sad if he leaves. Based on the previews, it seems like Ali might not choose any of the guys! Maybe she'll end up with Jake. I hear he's single. OK, probably not — I'd take Roberto, Chris L., or Kirk over vanilla Jake any day. So if you had to choose a guy to be the next Bachelor, who would you choose? I'll say . . . Roberto!
Buzz: I say Chris L.! He seems like such a genuine, family-oriented guy, and he's definitely one of the funniest dudes there. I would choose him, move to the Cape, and scarf down lobster to my heart's content.