Recap of The Bachelorette, Plus Video of the Fight Between Craig M. and Jonathan the Weatherman
Bachelorette Breakdown: Buzz and Tres on the Big Boy Battle
Boys will be boys, no? On this week's episode of The Bachelorette, a not-so-friendly rivalry hit its boiling point when Craig M. and Jonathan (aka Mr. Weatherman) got into a tussle. Meanwhile, Frank saw green while watching the other guys put their hands all over his new girlfriend. We — Tres and Buzz — have already been gossiping over the evening's events. Read our chat, and then sound off with your thoughts in the comments!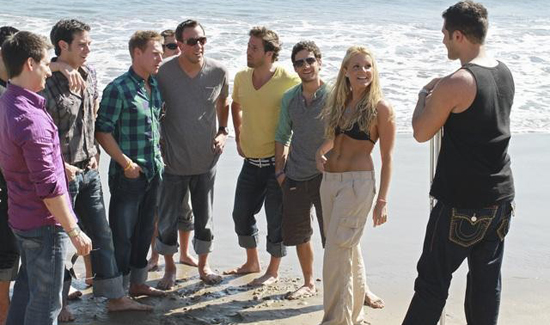 BuzzSugar: First things first — Craig M. and the Weatherman. Whoa, the drama. Their antics seemed more befitting for some 21-year-old frat boys than for men in their 30s. I actually think Craig M.'s egotism and taunting comes from a place of insecurity. Did you watch when he sat down with Ali for their one-on-one talk? He totally froze up and couldn't even look her in the eye!
TresSugar: I totally agree about Craig M.'s serious insecurities, but it surprised me that he got kicked off. I figured the producers would keep him around for the drama. I've got to give it to Ali for calling out Craig M. for not asking her anything about herself. That's a classic red flag! As for the Weatherman, I doubt there's much heat in the forecast for him and Ali, regardless of how tall he is. (Remember Craig M.'s deep parting shot? "You can't be serious with someone who's shorter than you." Someone's bitter!) But let's talk about the guys who have a shot. What do you think, Buzz?
For the rest of our conversation and to see a video of Craig M. and the Weatherman battling it out,
.
Buzz: I kind of loved Chris L. in this episode. Not only does he seem like a great family guy, but when he talked about the butterflies he had after speaking to Ali, he just seemed so genuine and cute! I'm thinking these two will really bond over their Massachusetts link, and I can't wait to see them one-on-one at some point. Frank was my front-runner last week, and he's obviously doing well with Ali; however, I'm a bit concerned that he's coming on too strong. Do you agree, Tres?
Tres: Frank and his "oh may gad" Midwestern accent are so cute, but I think he did come on too strong. Both Chris L. and Roberto kept their confidence, even though they didn't get a date, while Frank seemed needy. Also, did you notice that when Roberto told Ali she was beautiful she got all red and giggly, but when Kasey said the same thing she was like oh yeah, great. My money's on Roberto!
Buzz: You may be on to something there, Tres — I agree that she seems to get very giddy around Roberto. Alright, so I can't let this conversation end without recapping some of the worst, eye-rolling moments of the show (and since it's The Bachelorette, you know there were plenty). I just about died when Jonathan wouldn't get into his teeny-tiny swim trunks, because he said he wasn't, um, exactly packing the goods. Who admits to that . . . on national TV?! Also, Ty is sweet, but playing guitar for Ali on the beach? Ugh, cheeseball! Anything that made you cringe?
Tres: Well I think you covered it all! I'm looking forward to next week's PG-13 music video and Rated-R drama!
Do you have a favorite moment of the night? What's your take on the whole Craig and Jonathan debacle? Weigh in below!
Photos copyright 2010 ABC, Inc.