Recap of The Bachelorette, Plus Video of Kasey Singing
Bachelorette Breakdown: Everybody's Sick
Last night on The Bachelorette, Ali and her suitors left LA to begin a jet-setting trip around the world. First stop: New York City. Unfortunately, Ali came down with something, so she couldn't give the guys her all. But under-the-weather Ali wasn't the only one a little off. Kasey brought the crazy, the Weatherman had more high-pressure freak outs, and viewers came along for the bumpy ride. We — BuzzSugar and TresSugar — have been breaking it down this morning. Read our thoughts and share yours in the comments.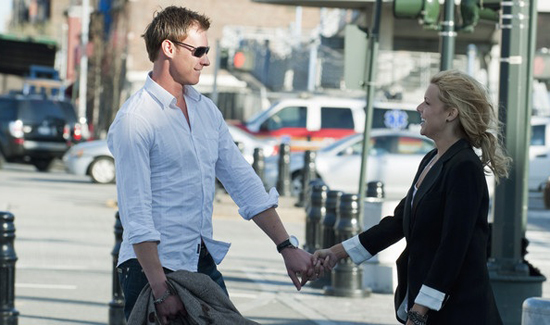 BuzzSugar: Tres, all I want is to protect your heart. And I just want someone who will protect mine. Um, sound familiar?! I had no idea that Kasey would turn out to be so crazy pants. Backtracking to their date, the producers picked a dark museum for them to run around in. How is this a good idea? Yes, it would have been totally romantic had Roberto been her escort, but because it was Kasey . . . well, let's just say when he put the flashlight in his face to spook her, I was actually scared.
TresSugar: Maybe Kasey tried to scare her on purpose so she would need someone to "guard and protect her heart." We should turn the whole episode into a drinking game — one shot every time Kasey said he would guard and protect her heart and two shots every time he attempted to sing (to help ease the pain of the awkwardness). When Kasey finished one serenade and Ali just stared, all he could say was "Yeah. That's pretty intense stuff." You know what else is intense? Getting a freaking tattoo. As Chris L. said, Kasey will always be remembered as "The Bachelorette tattoo guy." But for some reason, Kasey thought the other guys loved his tattoo. His grip on reality reminds me of Kelly

Bensimon

. Moving on, let's talk about the Broadway show date.
Catch more of our thoughts, as well as Kasey's attempt to sing, after the jump!
Buzz: Watching the guys attempt to dance with The Lion King choreographer was kind of hilarious, but then they had to sing, too. It was just too much, although Jesse's vocals weren't half bad! But I think the highlight for me was when Roberto won the date, and then the rejects had to watch him perform with Ali and nuzzle her cleavage. There was a lot of jealousy going around, and who could blame them — did you see Roberto in that costume? Yowza.
Tres: Yes. Roberto warms my heart (and Ali's cleavage). Was it just me, or was weatherman Jonathan a little too excited about being on a "real Broadway stage!" Something's strange there. Also, Kirk's totally growing on me. He's like a nonboring, sort of sexy version of Bachelor Jake. What did you think of Chris L.'s solo date?
Buzz: I'm really growing to love Chris L. Even though it was his birthday, he seemed more concerned over Ali feeling better, and he was genuinely appreciative when she rallied to go out (although the gospel choir cameo was a bit strange). What a good dude. I'm saying it now — if he doesn't win this, please make him the next Bachelor, ABC! One thing I will say though is I feel like the show is purposely playing up the death of his mother; the producers seem to be editing it so that's become his "thing." Did you pick up on that, too?
Tres: Agreed. I had to turn away during some of the sad mom talk. It felt too personal for TV. So who did you expect to get a rose?
Buzz: Definitely not Kasey! I'm glad she booted Jonathan, but I was shocked she chose to keep Kasey over Jesse. Kasey has obvious red flags, whereas I'd argue that Jesse is probably just too young for her. Oh well, at least with Kasey around it'll make for juicy drama next week, and maybe we'll finally see him reveal that terrible tattoo to Ali. I cannot wait to see the look on her face!
Photo copyright 2010 ABC, Inc.