Recap and the Best Quotes From The Office Episode "The Delivery"
The Office, "The Delivery": Best Lines of the Night Plus Video!
Oh baby Cecilia Marie Halpert, how happy I am for your arrival! Thanks to you, this week's The Office gave us a rare treat — a completely flustered (read: adorable) Jim. As the parents prepare for the birth, Pam is insistent on waiting until midnight to go to the hospital, thereby getting two days of insurance. But as her contractions get closer, she has mini-breakdowns over her iPod, and Jim tosses baby books like a crazy person. And I loved it. What a nice break to see the normally cool and collected couple be the nutty ones for a change.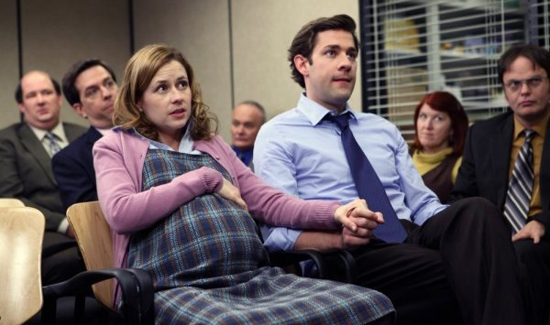 Don't get me wrong, the entire Dunder Mifflin gang is a weird mix of emotions, too. Angela starts to question her own maternal instincts, Andy gets incentive to ask out Erin, and Michael becomes a regular matchmaker (with disastrous results, of course). It made for a really fun, sweet episode, and I can't wait to relive it all. Let's begin with a few of my favorite quotes!
"I need a baby. I'll never outsell Jim and Pam without one. Also, I've been noticing a gaping hole in my life. Sometimes I wake up cradling a gourd."—Dwight
Dwight gets jealous when Pam and Jim get more orders due to pulling the pregnancy card and plots for his own offspring — with none other than Angela as his accomplice. Dwight has a ton of regulations for their parent partnership (one which includes a Winter vegetable mash), but Angela agrees to the stipulations, because she obviously still has feelings for the lug. Do you think they'll get back together? Angela herself seems to think so, and I do, too. Or perhaps the reappearance of Isabelle is going to foil it?
For more fun quips, plus a video clip of Jim putting a diaper on a cat,
.
"I love escorting people. In fact, a few years back, I put an ad in the paper starting an escort service. I got a lot of responses. Mostly creeps. Made a few friends."—Dwight
Dwight offering to lead you through traffic is never a good idea. Case in point: when Jim and Pam follow him to the hospital (in a car driven by Michael — mistake No. 1), he pulls out a fake police siren and gets pulled over by Bruce, a real officer who apparently knows Dwight on a first-name basis.
"I've got to go wash my eyes. That kid's going to have a lot of hair."—Michael
I know, I know, the implication is super gross, but I did chuckle watching Michael come out of the delivery room while Pam went into labor. He does actually look like he's just seen horror of all horrors. And then I laughed again as he tries to knock on the door despite her screaming — and then as the baby cries, and he lights a cigar in the obviously non-smoking hospital. You've got to admit though, that it is incredibly sweet to watch him hold little Cecilia. To see it again, just check out the video.
"Kevin has an enormous heart. Literally, he has an elephant heart. He had a transplant."—Michael
Oh man, how uncomfortable is it to watch Erin squirm, as Michael tries to play cupid for her and Kevin? I mean, Kevin?! On the positive end, it does get Erin to confess to Michael that she has feelings for Andy — and it finally puts some fire under Andy to ask her out. Granted his fax idea doesn't go as smoothly as planned, but they're making a date. Finally! I'm actually rooting for these two, how about you?
Other highlights of the night: Andy's "The Evolution of Dance" dance, Dwight "taking care" of Jim and Pam's mold problem, and Andy hiding behind the plant. I feel like I laughed more at this episode than I have in a while. Any lines you especially enjoyed? Tell me in the comments, or head on over to The Office! group in the BuzzSugar Community.
Photo and video courtesy of NBC