Recap of Desperate Housewives "You Gotta Get a Gimmick"
Desperate Housewives Rundown, "You Gotta Get a Gimmick"
After a cataclysmic plane crash and a series of odd flash forwards, we're finally getting back to normal on Desperate Housewives. If "normal" includes a Susan Delfino striptease, that is. I thought this week had a nice balance of the goofier antics that we love the show for, along with more serious subject matter as Lynette tries to cope with the loss of her unborn child and Gaby reflects on her own self-loathing.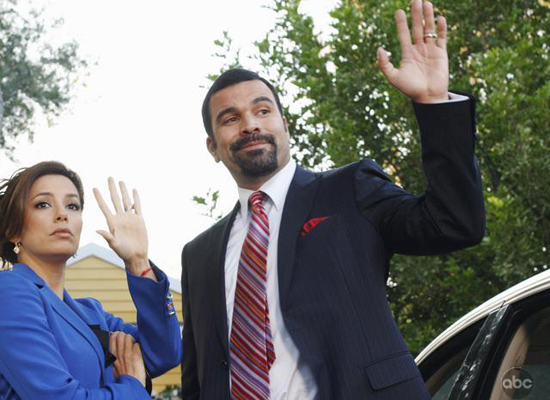 Are you ready to break it all down by character? Just
.
Susan: Following last week's death of her ex-husband Karl, Susan attends the reading of his will and ends up with his lucrative secret business — a strip joint named Double D. She scouts it out, and upon talking to a dancer named Destiny, Susan discovers that Mike patronizes the place (to do their plumbing, so he says). She gets on Mike's case, and he lashes back, telling her she can't tell him what to do. To prove a point, Susan gets on the pole herself and strips in front of Double D's customers. Mike promises to never go back.
Gaby: Gaby and Carlos are trying to get Juanita into an exclusive private school, but the head of the program only seems to be interested in their daughter for her Mexican heritage. Problem is, Juanita doesn't even realize that she is Mexican. Gaby and Carlos begin to question whether they've deprived their daughter of their cultural background, so when she gets in, Carlos wants her to attend a school in a more Hispanic area instead. Gaby raises a fuss because she's ashamed of her past growing up Mexican and poor, but ultimately they decide to tell Juanita about their history.
Lynette: In typical fashion, Lynette doesn't want to allow herself any time to grieve after the death of one of her twins last week. When Tom offers to step in for her at work until she recuperates, she immediately feels threatened of being replaced at her job. Carlos tells her that Tom suggested that she might want to stay at home with the new baby. Reeling from this news, Lynette faces Tom, and he says that he thought she'd want to spend time with this new child given all that she's gone through. Lynette is falling to pieces, but it's obvious that Tom is also having a hard time. If they don't lean on each other soon, you can tell that things are only going to get darker for him in the episodes to come.
Bree: Bree admits to her church pastor that she had an affair with Karl, and he suggests that she try a penance of sorts by caring for a now handicapped Orson. Just one thing: Orson doesn't want her back anymore. Bree tries to appeal to him, but when he won't listen, she takes him back by force — right out of the McCluskeys' home, where he was planning on staying (by the way, how funny but gross was that line about the McCluskeys' naked floor?!). Orson finally agrees to stick with Bree, but he asks her to wait on him hand and foot.
Danny: No sign of Angie in this episode, but Danny pops up in a side storyline with Julie. Ana confesses to Julie that she has the hots for Danny, so Julie suggests that they all go to a comic open mic night for Eddie. Ana seizes the chance to come on to Danny; he responds by saying she's too conceited, and she bites back by bringing up his suicide attempt. A new teen romance on Wisteria Lane, perhaps?
Did you enjoy this week's episode? I think we know where most of the storylines are headed from here — eg, you can tell that Orson is out to make Bree's life miserable — but what do you think is going to happen with Lynette and Tom? They're one of my favorite TV couples, so I hate to see them face yet another challenge to their relationship (even if it does make for an interesting plot). Oh, and how about the exchange with Mrs. McCluskey and Lee talking about their mutual fantasy over Tom's khaki shorts? Loved it!
Photo copyright 2010, ABC, Inc.