Christmas has come to Glee, and it's surprisingly raunchy. As soon as Fox advised viewer discretion, citing sexual situations, violence, and suggestive dialogue, I knew this would be an interesting episode. The title, "Previously Unaired Christmas," had me a little confused, and to be honest, Jane Lynch's introduction just made me even more befuddled. For the record, this episode was filmed this year, but as you might recall, this season's timeline is a little wonky. Instead of skipping a holiday episode altogether, they just decided to go back in time. Sure enough, Glee pulls off an episode that's supposed to have happened in the past without screwing with the present plots. You know what that means? Filler.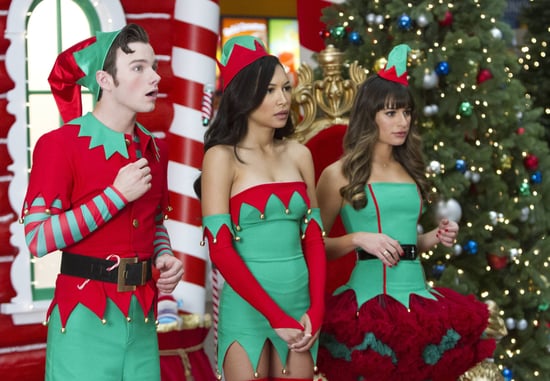 This isn't to say it's a bad episode. There are some fabulous moments (Santana Claus obviously being the greatest), but it's so scattered. In any case, let's get to spreading the holiday cheer! I'm going over the highlights after the jump.
Santana, Kurt, and Rachel all get jobs playing Santa's elves at a Manhattan mall. The girls' costumes are a little bit skimpier than you probably remember seeing the last time you were at Santa's mall workshop, but whatever. They're drowning in snot-nosed kids and insistent parents; even Santana as Mrs. Claus can't handle them, though she is totally hilarious — "I think he pooped in his pants." Her inappropriately explaining the pitfalls of her failed lesbian relationship with Britney to a confused little girl is priceless.
What else is priceless? Kurt and Rachel's apartment. No, literally, they invite Sexy Santa over and he gets them liquored up and steals everything. Here's what we learned: don't trust men who don't wear shirts in the dead of Winter.
The Glee club decides to participate in Sue's Christmas tree-decorating contest, and in keeping with the school's Green Theme, they decorate it with items they find in the forest. The best part of Sue's inspection is when she asks Sam what happened to the vole they made homeless by uprooting its home (the tree) . . . then Sam whips out the new class pet, Richie the Vole. BOOM: Glee club one, Sue zero.
There are some fantastic holiday numbers from this episode. I especially loved Santana, Kurt, and Rachel's rendition of "Here Comes Santa Claus." It was adorable; how could you not love it? Same with the Nativity scene performance of "Love Child." I would never have picked that song to go with that scene, but it was perfect. Diana Ross & The Supremes would be proud. Or horrified. I'm actually not sure.
OK, I'm sorry but we just have to talk about how dirty this episode is again. Becky insisting on having "mouthsex" with Sam and tickling Tina's tonsils? Sue suggesting the glee club has a supply of at-home sex-change kits? Kurt using the word "mangina"? Seriously, am I a prude or are things getting kind of out of hand? My face during most of this episode was pretty similar to Kitty's when Unique gives birth.
What did you think of "Previously Unaired Christmas," and are you sad we won't be seeing any more Glee until February?