Recap of House Episode "Baggage"
House Rundown, "Baggage"
With a little help from the return of House's therapist Dr. Nolan (Andre Braugher), this week's episode gives us a glimpse inside the man's psyche. As you might expect, he's an interesting, albeit complicated study.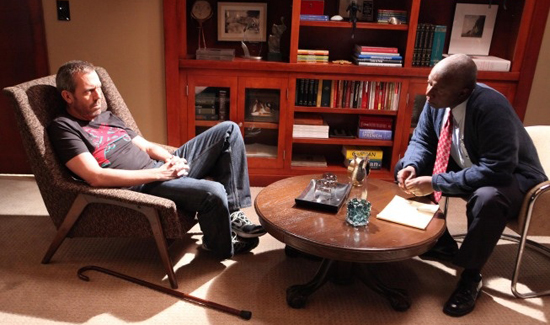 The show itself is a little strange, too, constantly flipping between House's conversations with Nolan and the usual run of interactions with patients, Wilson, and the like. It almost feels like a play, but by the end, we dig down deep to what it is that really is bothering House lately. Want to know what it is? Just
.
First big surprise of the night: Wilson wants House to move out so Sam can move in. He agrees and journeys back to his old apartment, which is now being occupied by (surprise!) Alvie, his friend from the mental ward. I sort of liked having Wilson and House live together, even if their pranks sometimes felt tired. I'll miss them as roomies, how about you?
An unfortunate side effect of Alvie's reappearance: he got rid of several of House's belongings when he moved to the doctor's apartment, including a very important book that House seems adamant to have returned to him. How come? Keep reading.
As for this week's patient, House is overseeing an unusual amnesia case where a female runner has no recollection of her former life, including her husband. House steps in to help her figure out who she is...then he thinks she's going to die...then he just realizes it was a bad tattoo and all she needs is a skin graph. Talk about anticlimactic.
Alvie may be a sweet enough guy, but he sure is annoying. House realizes he's trying to sneak by immigration, so he calls for a hearing. They even collect Alvie in handcuffs! I was pretty shocked by House's move to get his friend arrested, but sure enough, House swoops in at the last minute by producing a fake DNA analysis to prove that Alvie is legal. Alvie is appreciative, but later, he takes off to go live with his cousin instead, leaving House all by his lonesome again.
So, Wilson and Sam are preparing to co-habitate, Alvie and his cousin are living together, and wait — Cuddy and Lucas are moving in together, too?! Finally, Dr. Nolan gets it out of House that the underlying reason for his hard week is Cuddy. That, and the fact that everyone is leaving him behind. Kind of makes you feel bad for the man, but to add to it, we learn that the book House is so protective of is actually written by Cuddy's ancestor. House had plans to give it to her in the future as a thoughtful gift. Now, doesn't that just make you feel even worse for the guy?
What'd you think of this week's episode? I enjoyed the shakeup to the typical structure, but I thought it was kind of a downer. The script seemed to be lacking the banter that gives the show its zip, so this one instantly took a darker, more serious tone for me. Do you agree? Sound off in the comments or click on over to the House! group to chat more.
Photo courtesy of Fox