Recap of Mad Men Episode "The Beautiful Girls" 2010-09-20 06:30:00
Mad Men's 5 Maddest Moments: Episode "The Beautiful Girls"
On this week's Mad Men, Don (and his voice over) take a backseat to the ladies of Sterling Cooper Draper Pryce. Faye comments that not having kids was her decision; Peggy's concerned that her new male copy writers could easily unseat her; and Joan struggles to stay collected with her husband about to be shipped to Vietnam. Then there's Miss Blankenship, the office spinster and shining example of what you don't want to happen to you.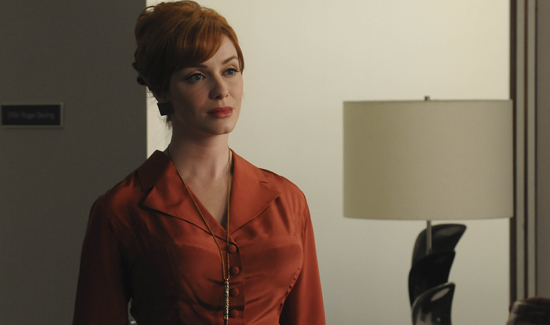 Feminist perspective aside, there are plenty of shockers from the evening as well. Don has a girlfriend? Sally runs away from home? Roger has sex in a dirty alley with...?! Well, I don't want to spoil everything just yet. If you're ready to talk about the big moments just read more.
Don adds another notch to the belt: You didn't really expect Don to keep up his chastity act with Faye, did you?! Apparently that didn't last, because the latest episode kicks off early with a particularly, er, vocal display of Don and Faye's relationship. The two are now sleeping together, but it looks like Don's in it for more than just sex, letting Faye lock up his apartment and exchanging knowing looks in meetings. Sally asks if he's going to marry his new paramour, to which he responds that Sally might see her more often. The outlook seems good for Faye, but do you think Don will keep around for long?

Little girl lost: Sally continues her wild streak and runs away from home to find Don, showing up at the agency unannounced. With his two worlds colliding — father and businessman — Don doesn't know what to do, asking Faye to watch her at his apartment (Faye may be able to smooth talk with focus groups, but her awkward "hello" makes it obvious that she does not do well with children). Later, Sally revels in being close to her father again, spending the night eating pizza and making french toast for him, even though (oops!) she mixes up the rum and Mrs. Butterworth's bottles. But the next day, Don still tells Sally that she'll have to go back to Betty, sending her into a screaming fit. She sprints down the office hallway and falls flat on her face. One of the secretaries tries to make her feel better by saying "it's going to be alright," to which Sally replies a devastating "No, it's not." I hate to say it, but I think Sally may be right as far as she's concerned, the poor kid.
Very public displays of affection: I know I'm supposed to feel bad for Joan with her husband Greg going to Vietnam, but she's been particularly irritable the past couple of episodes. You just knew she was going to snap, and well, it happens. Roger makes a few suggestive comments, she gets angry, he apologizes by sending her a masseuse, and soon they're having dinner to discuss what's going on with her. Finally, her wall comes down a little, and the two leave the restaurant — where they get held up by a mugger. Roger sends him away with their belongings, and then tries to calm down Joan who goes in for a kiss. But it doesn't stop there, as Joan hikes up her dress, and they get it on right there by the street! Whoa. Nothing like a near-death experience to bring people together. Then the clincher: when Roger apologizes the next day, Joan says she's not sorry.
You say you want a revolution: Peggy's progressive friends are back! Her lesbian pal Joyce returns and she plays matchmaker for Peggy and Abe — the guy that she kissed a few episodes ago. Abe gets opinionated on Peggy, telling her about a protest happening with her Fillmore Auto Parts client where they won't allow "negroes" in their Southern stores. The debate flusters her, so she leaves their arranged date, but then Abe shows up at her office the next day with an article stating his argument. Peggy's furious, concerned that if he publishes it, she'll get fired. But his statements don't fall totally on deaf ears; in a meeting with Don and Ken, Peggy suggests that they hire Harry Belafonte to sing a jingle for the auto parts company (which of course, Don shoots down).
Miss Blankenship, R.I.P.: Yes, Miss Blankenship bites it, keeling over right at her desk. With an important meeting with the auto parts company going on, the secretaries have to band together to wheel Blankenship out of the office with a blanket over her body. Their back-and-forth removal and cleanup was perhaps the funniest part of the night (morbid, but true). Let's all take a moment to recall Blankenship's mean and often-inappropriate quips. Even the line she had in this episode where she asks Don if he's going to the bathroom made me laugh out loud. May she rest in peace.
What did you think of the episode? Were you happy to see Joan and Roger knock boots once more? Surprised to see Don and Faye hop in bed so quickly? Still bummed about Miss Blankenship's departure? Let me know your thoughts in the comments, or join the group It's a Mad, Mad, Mad Men World in the BuzzSugar Community to chat some more!