Recap of Mad Men Episode "Waldorf Stories" 2010-08-30 09:47:15
Mad Men's 5 Maddest Moments: Episode "Waldorf Stories"
Forget the Emmys, because this week on Mad Men, there's another coveted trophy: the CLIO awards! Don, Pete, Joan, and Roger attend the ceremony, where the agency (well, mainly Don) is up for honors for its Glo-Coat ad.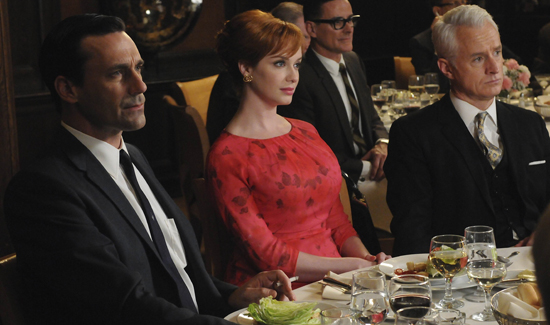 The win creates some jealousy, as Roger envies Don's prize — and the fact that Don kisses Joan probably doesn't help, either. Do you think the writers are setting the men up for a friendship fallout? At least they have one thing in common: they both love booze. Don spends most of the episode in a drunken haze where he doesn't remember anything. Luckily I do, so let's recap when you read more.
Roger's memoirs: Hooray for flashbacks! As Roger works on his book, he reminisces about the beginning of his affair with Joan and his first meeting with Don when Don was just a sales guy at a fur shop (note the ad featuring Betty on the store wall as a wink to the viewer). At the time, Don was just a dreamer trying to get his foot in the door at Roger's agency through any means, even "bumping" into Roger at his office elevator. Roger takes all the credit for discovering Don's creative talent, but we know the truth: Don just got Roger to agree to hire him when Roger was too drunk to care otherwise.
Feeling liberated! Peggy is turning into quite the free spirit. First she starts hanging around beatnik artsy types, and now she's baring all? After hitting writer's block with her unfocused, fratboy-ish creative guy Rizzo, she decides to do something that is sure to get his attention by taking her clothes off. All of his talk about her being too stuffy and not "liberated" enough, and Peggy really one-ups him. Best of all, they get a good Vicks campaign out of it.
The CLIO Awards: Don, Joan, Roger, and Pete head to the Waldorf as nominees for an advertising CLIO Award (an off-the-wagon Duck makes a cameo, as well). Don gets soused at the affair, and then returns to the office, where he pitches a slew of bad slogans to Life cereal before heading to the afterparty at the local bar. He hits on Faye (called it!), but when she turns him down, Don goes home with another interested woman instead, followed by another woman. We always knew Don was a Lothario, but sleeping with two women, two nights in a row (and then forgetting it, no less) seems like a new low for him.
Team Cosgrove: We'll be seeing a lot more of Ken Cosgrove very soon. After meeting with Pryce, the former associate is returning to the fold, which of course makes Pete furious. Pete tells Pryce that he doesn't want his nemesis on his team, but Pryce insists that Cosgrove's clients will be a coup for the company. So Pete does what he does best: he brings Cosgrove in and belittles him. I think Pete is due for another swift kick to the ego sometime soon, and here's hoping Cosgrove is just the man to do it.
It's all about who you know: Roger sets Don up with a meeting with Jane's cousin, Danny (Jonathan from Buffy: The Vampire Slayer!), an ambitious but clueless ad hopeful much like Don's former self. After Danny shows his book of cliched ads, Don basically laughs in his face and kicks him out. But when drunk Don is in the middle of the aforementioned Life cereal meeting and reaching for ideas, he hands out one of the same slogans Danny had pitched. Peggy calls him out on the error, and soon Don is giving the kid a job. It'll be interesting to see how someone so clueless meshes with the office know-it-alls (looking at you, Peggy).
What did you think of the episode? It really felt like the show was putting Don up on a pedestal only to knock him down, and I loved it. Let me know your thoughts in the comments, or join the group It's a Mad, Mad, Mad Men World in the BuzzSugar Community to chat some more!