Recap of The Office Episode "Body Language
The Office, "Body Language": Best Lines of the Night
Many of you weren't on board with my assessment of last week's episode of The Office, but I think we can all agree that this week's is pretty much perfection — and it was directed by Mindy Kaling! As such, the storyline gives us plenty of Kelly Kapoor, who is applying for a Sabre minority-training program in order to shoot up the corporate ladder. That means you get a ton of ditzy lines and racial tongue in cheek. And I loved every minute.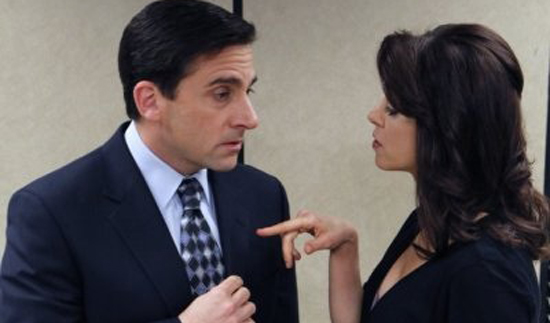 Also, Donna reappears. She's the bar manager that Michael had an altercation with on a recent happy hour outing. Now, she's back to get a deal on printers, and she's using her feminine wiles on Michael to see it through. There are tons of funny lines from the evening to go over, so let's begin.
Dwight: "I bet you get pulled over by the cops a lot just because of your race."
Kelly: "Well, they say it's because of texting, but maybe you're right."
After Dwight finds out that Darryl is applying for Sabre's Minority Training Program, he starts plotting ways to bring him down. See, Dwight doesn't want Darryl moving up and being boss someday, so he enlists Kelly to unseat him. He figures if he pushes Kelly, then she'll reward him when she gets to the top. So he starts asking her what it's like to be Indian, and filling her head with ideas — not too difficult since, you know, she's Kelly and her business role model is Julia Roberts.
For more memorable quips,
.
"It's subtle, that's how it works. I show her an image that turns her on. Then she looks at me, then she looks at the image, then back at me, then back at the image. Soon, she doesn't know what is me, what is the image. She just knows that she's turned on." — Michael
When Donna comes in to the branch to order printers, Michael prepares a little presentation to show her the quality of the product — which quickly escalates into glamour shots of Michael and subliminal messaging (old-school Tom Selleck! SEX!). I was dying throughout the whole thing, but mainly, it made me sad already to think that Steve Carell may be leaving the series. Steve, don't go.
"You ever notice you can only ooze two things? Sexuality and pus." — Creed
The employees evaluate the body language between Michael and Donna to determine if she likes him, but they can't figure out if Donna is coming on to him or if she just gives off a sexual vibe. Creed's comment is definitely the grossest line of the night, but I loved it. Flash forward to the end of the episode, and Donna was hitting on Michael after all. They end up locking lips in the parking lot, and I couldn't help but feel kind of giddy inside. Michael has a new girlfriend!
For hobbies, yoga, belly-dancing, snake charming, bed of nails..." — Kelly
Kelly shows up for her interview with Gabe for the minority program decked out in full traditional Indian dress. When she's not accusing him of being insensitive to her race, she's rattling off a few of her "usual" hobbies (funny, she doesn't mention shopping...).
So, what are your thoughts on the episode? Do you want to see Michael with a girlfriend? Should they continue on with this Kelly storyline and show what goes on in the program? Give your two cents in the comments or check out The Office! group where you can always rant or rave to your heart's content.
Photos courtesy of NBC