Recap of the Office Episode "Christening"
The Office "Christening": Best Lines of the Night
On this week's episode of The Office, Michael's feeling lonely after Jim and Pam choose their friends to be Cece's godparents at the baby's christening. So in his ongoing quest to belong, Michael does something rash: he joins a church youth group on their way to Mexico. Forget the fact that all of the kids are nearly half his age, Michael just wants a place to call home — home being a giant bus of religious twentysomethings.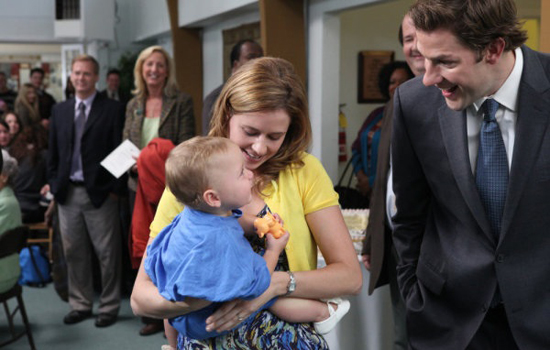 Back at the christening reception, Jim tries to keep an eye on Cece, Toby attempts to make amends with God, and Dwight does his best to sell paper and printers to the congregation. Though I didn't find the episode as funny as the last couple (it's hard to top Halloween!), it does have some great lines. Let's review when you
.
"Right, and ruin their cloaks? Do you have any idea how expensive wool is in Transylvania? Because of the euro." — Dwight, challenging Pam's vampire cough theory
"Jesus is not your caterer." — Angela, who doesn't see the humor in Pam's loaves and fishes joke
"Teach for America girls are way hotter. But they're nuts." — Ryan, checking out the girls in the young ministry group
"It's Dwight from the vestibule. You want to know my 11th commandment? I will not be undersold. I'm ready to love thy neighbor with these kinds of discounts." — Dwight, trying to do business during the christening reception
"Fine, I guess I'll watch Suzanne's purse and your baby." —

Cece's

Meemaw, after Jim asks her to look after Cece
"I think it's really cool Michael. I wish I had a job that I could just leave." — Erin, championing Michael's decision to travel to Mexico
What did you think of the episode? Did you find Michael funny, or did he get on your nerves? Aren't Pam, Jim, and Cece adorable? Weigh in below or over in The Office community group!
Photo courtesy of NBC