Recap of The Office Episode "Costume Contest"
The Office, "Costume Contest": Best Lines of the Night
I always love it when the Dunder Mifflin crew gets into the Halloween spirit on The Office. They're kooky enough as is, but whenever the holiday rolls around, they really let their freak flags fly (for proof of that, just click here). This year, everyone dresses up to enter the employee costume contest, even costume-averse Jim (though it takes some convincing on Pam's part). The competition's sought-after prize? A Scranton coupon book worth $15,000.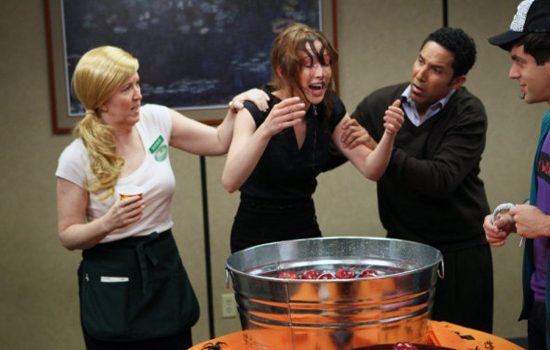 Most of the staff are wrapped up in the fun Halloween hijinks with the exception of MacGruber Michael. Once he discovers that Darryl went over his head to pitch an idea to corporate, his ego causes drama in the midst of the festivities. But perhaps Michael's concerns about being bested by Darryl are warranted; after all, someone has to take over when Michael inevitably leaves, right? Meanwhile, Pam and Jim confront Danny Cordray about why he never called Pam back after their date. Let's review some of the night's best lines when you
.
"Very funny. It looks like someone decided to dress up as old Dwight Schrute's mom. You're only one third as beautiful and about half her height. She was one of the last real giants." — Dwight, who is obviously confused by Pam's Olive Oyl costume
"Darryl Philbin is the greatest guy in the world. And you know what I'd like? I'd like to have all the racists brought together and take Darryl Philbin out to lunch just to see what they're missing." — Michael, singing Darryl's praises in his usual inappropriate manner
Michael: "What are they talking about?"
Dwight: "Kevin and Gabe? Probably the extremes of the human physique."
"How many freaking vampires am I supposed to care about these days?" — Stanley, who doesn't share in the True Blood craze
"I got two! I ate two whole apples!" — Erin, while bobbing for apples . . . and nearly drowning
"Best Edward James Olmos costume I've ever seen. Like freaky good." — Creed, showing his admiration for Oscar's "rational consumer" costume
Did you like the episode? Which costume was your favorite? And please, tell me you melted as much as I did when Jim came in as Popeye with Cece. I could talk about my favorite moments at length (particularly loved the cold open!), but let's get the discussion going in the comments. Or sound off with your thoughts in The Office community group.
Photo courtesy of NBC