Recap of The Office Episode "Counseling"
The Office, "Counseling": Best Lines of the Night
You know it's going to be a fun episode of The Office when Pretty Woman references come into play. After getting shunned at a store at the mall, Dwight returns with his co-workers to do exactly what Julia Roberts did on Rodeo Drive. Jim and Andy gussy him up (and nix his monochromatic wardrobe) to ready him for his purchase of . . . a pewter wizard.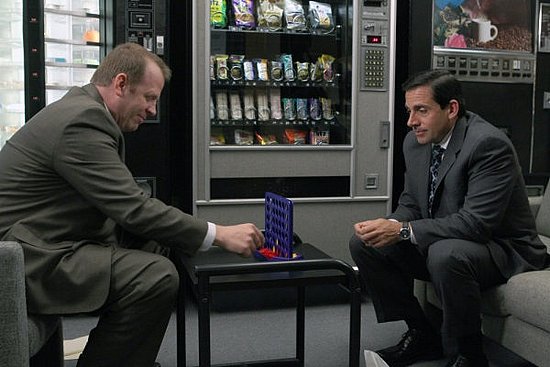 While Dwight plots in the cubicle pod, Toby and Michael are holed up in the break room, as Michael endures his corporate punishment for spanking his nephew/assistant last week. Toby counsels the manager, and their conversation evolves from ridiculous to more ridiculous to actually kind of enlightening. Dive right in to the night's best quips when you
.
"No one. The door locks from the outside. Escape is impossible." — Dwight, when asked who watches the children in his Insane Clown Posse-decorated daycare
"I'm glad Michael's getting help. He has a lot of issues, and he's stupid." — Phyllis
"I talk a lot, so I've learned to tune myself out." — Kelly
"I was probed by an alien life force. ALF. I may have actually been probed by ALF. You might think he's a puppet. You never see the lower half, but there's a lower half." — Michael, explaining his emotional problems to Toby
"Disposable cameras are fun, although it does seem wasteful, and you don't get to see your pictures." — Erin, after taking a photo and throwing away her camera
"You made a big mistake, HUGE!" — Dwight, doing his best Pretty Woman impression
Did you like the episode? What did you think about the Pretty Woman connection? Are you digging Dwight's makeover? Sound off below, or click on over to The Office community group!
Photo courtesy of NBC