Recap of The Office Episode "The Cover-Up" and Video
The Office, "The Cover-Up": Best Lines of the Night and Video!
Michael really can't catch a break with the ladies. On this week's The Office he's blissfully infatuated with his new girlfriend Donna (he told her "I love you" on the second date!), but things take a downturn when a few of the employees — namely, Kelly — get it into his head that Donna may be cheating. Distressed, he calls on his constant go-to in times of crisis: Dwight. In P.I. mode, Dwight decides to track Donna — which blows up, of course.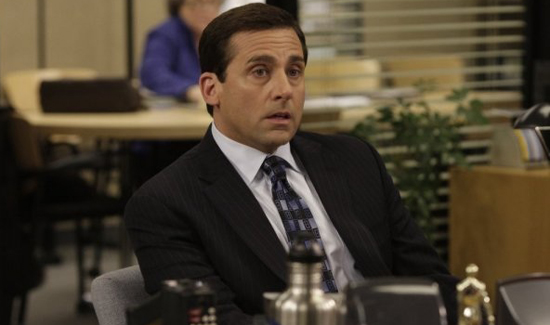 While that's going on, Darryl is playing tricks on gullible Andy, convincing him that corporate is out to off the guy after a printer catches fire. Side note: I really want to try this blinking Morse code thing. Let's focus on the funny lines of the night.
"The only logical way to find out if Donna is a cheater is to seduce her, bring her to orgasm, then call Michael and tell him the sad news." — Dwight
Michael hires Dwight to spy on Donna, but I don't think he'd be happy with Dwight's plan of attack. His goal: to seduce her. He shows up at Donna's gym, and then proceeds to make suggestive comments while wearing his old undershirt and strapping a weight to his head — that is, when he's not moaning on the thigh press machine.
More memorable quotes when you
.
"I just like you. I can't believe I get to be with you. You work at an adult arcade. You can have any man you want." — Michael
When Donna shows up to the office ticked over Dwight, Michael apologizes and professes just how much he likes her. But then Kelly puts Donna through questioning about her heart-shaped earrings (hilarious!), which makes Pam suspicious. So Pam digs up Facebook photos of Donna kissing another man, which she passes to Michael. Michael confronts Donna, and she admits the truth — she's married! As Michael says, he's the mistress?! Do you think they'll keep seeing each other?
"My name is Andrew Baines Bernard, and if you're watching this, it's because I've turned state's witness, because I'm in danger, because I know too much." — Andy
Darryl is still holding a grudge from when Andy almost got him axed, so after Andy tells Gabe about a printer that caught fire, Darryl suggests that Gabe is hiding the truth about the machinery — and that corporate wants Andy terminated as a cover-up. Andy freaks and thinks his job (and his life?) is in danger, and Darryl only feeds into his fear, even convincing him to make a tell-all video. I was dying when he gets Andy to raise his voice higher as he crazily talks about "blowing the roof" off the company conspiracy. Hey Andy, this isn't The Firm.
Re-watch the video here:
"If they catch us, they will rape us." — Dwight
The goofy scenes at the end of the episodes are often one of the best parts, and this one saw Dwight taking over the spin class at his new gym — while the instructor looks on helplessly. Fear is apparently Dwight's best exercise motivator.
Did you love/hate this week's episode? Do you think Dwight has a future as a personal trainer? Lend your thoughts in the comments or check out The Office! group to chat more.
Photo and video courtesy of NBC