Recap of The Office Episode "The Sting"
The Office, "The Sting": Best Lines of the Night
It's been a while since I've said this, but I really, really like this week's episode of The Office. It hits just the right balance of sweetness (Andy's band) and hilarity (the Meredith, Oscar, and Ryan bit killed me!). We also get a slight break from insanely over-the-top Michael, as he mostly stays in boss mode. Is it proof that the show may survive without him after all?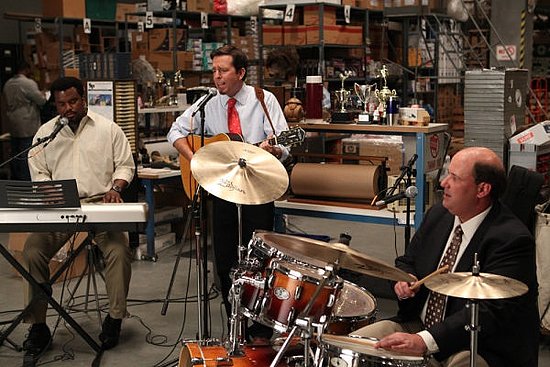 When Jim and Dwight go to pitch to an important client, they bump into Danny Cordray (Timothy Olyphant), the golden boy of sales in Scranton (and former date of one Pam Halpert). Determined to figure out what makes Cordray tick, Dwight cooks up a scheme to run surveillance on him during a fake meeting with Meredith — until Meredith's hormones get the best of her. To save face, Michael hires Cordray, bringing him on as a traveling salesman. As one more employee joins the fold, the rest of the boys bond over music.
I'm dying to talk about this episode, so for my favorite lines from the night just
.
"It can't beat a horse. A horse is a bike that pedals itself." — Dwight, after Oscar shows off his new bicycle
"I'm on Sheryl Crow's side in that whole thing, so I feel really weird right now." — Kelly, who refuses to support Oscar's Lance Armstrong-style bike
"So anyway, she says, 'That is the biggest penis I have ever seen.' And I said, 'I know, that's why I brought you to a penis museum where tickets are $1,000!'" — Dwight, as he pretends to act nonchalant in front of Danny Cordray
Jim: "Meredith Van Helsing?"
Dwight: "Van Helsing was a respected professor before he was a vampire killer."
Jim: "OK, but what is he more famous for?"
"I feel like I can see someone ice skating to it. Like in the Olympics." — Andy, as he tries to persuade the rest of the staff to like the falsetto in his new song
Andy: "Am I gonna be the happy me?"
Kevin: "Or the one that stinks?"
(Kudos to the band! I'm still smiling over their songs.)
What did you think of the episode? Is it the best one of the season so far? Sound off in the comments or share the love in The Office community group!
Photo courtesy of NBC