Recap of The Office Episode "Viewing Party"
The Office, "Viewing Party": Best Lines of the Night
This week, The Office crew jumps on the Glee bandwagon with a watch party at Gabe's apartment. With Gabe playing host, Michael gets jealous of the attention (and the fact that the employees view Gabe as their boss). I have to say I'm somewhat glad they're phasing out Michael. Nowadays I find the rest of the employees much funnier. Take Dwight, for instance. Who knew he's the baby whisperer? When Pam is desperate to get Cece to stop crying, Dwight lulls her to sleep. Meanwhile, Andy tries to figure out why Erin likes Gabe. Perhaps it's his Asian memorabilia.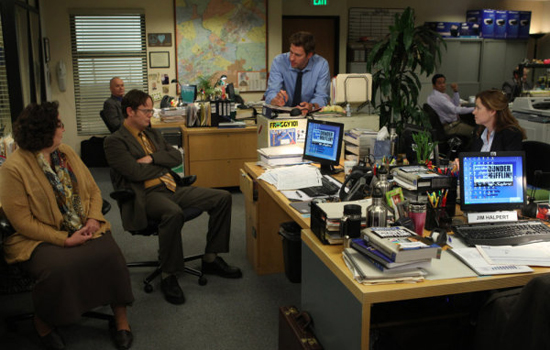 For an episode that centers around watching TV, there actually isn't much TV watching going on. Even so, as a fan of Glee I got a huge kick out of hearing everyone discuss the show. So many quotes made me laugh, so have a look at a few of my favorites when you read more.
Dwight: "They shouldn't televise any of this. It just encourages copycats."
Angela: "Just say copies. Why do you have to drag cats into this?"
"And I know what Glee is. I'm a total gleek. Do you know who my favorite character is? The invalid." — Michael, expressing his love for the show (and Artie)
"And what was with Jesse's sudden turn on Rachel between "Dream On" and "Funk"? Where the heck did that come from? Honestly that show, it's just, it's irresponsible." — Kelly, sharing her frustrations with Glee (she makes a valid point!)
"She's in heat. She will eat your face off." — Dwight, warning Pam about Angela
"I wanted to eat a pig in a blanket. In a blanket." — Kevin, enjoying his snacks in Gabe's bed
Did you like the episode? I was actually moved when Erin gets sincere with Michael toward the end, how about you? Do you think Gabe and Erin have slept together? Actually, don't answer that. But share the rest of your thoughts or click over to The Office community group!