Recap of The Office "Nepotism"
The Office Season Premiere, "Nepotism": Best Lines of the Night
And so begins Steve Carell's farewell season of The Office. It couldn't start off on a better note than the adorable lip-dub video, and I know you want to watch it again so go ahead. After the cold opening we learn a bit about what the gang has been up to on their Summer vacations — most notably, that Gabe has stolen Erin away from Andy!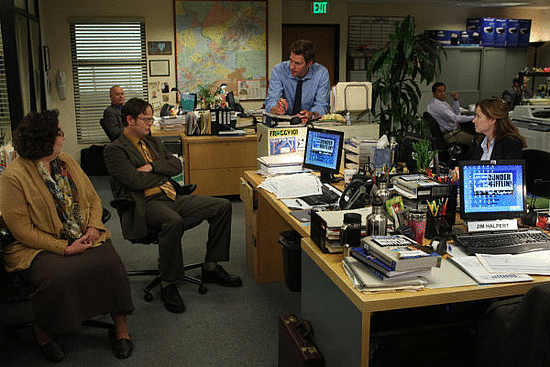 Elsewhere at Dunder Mifflin, Michael has hired his nephew as the new assistant, but everyone else can't stand him. The season premiere made me giggle more than a few times, and I'm happy that the seventh season started off on a good note. Ready to relive some of those one-liners? Just read more.
"Saw Inception. Or at least I dreamt I did." — Michael, on his Summer
"Gabe is awesome. He's accomplished so much, career-wise and height-wise. Thank god he's my boss because I would not have said yes to a first date if I didn't have to. But it's been great!" — Erin, on her new relationship
"Like you'd ever be cold Kevin." — Dwight, to Kevin
"Do you think they should have had open auditions for the band Hanson? What if no one named Hanson showed up? That wouldn't even make sense." — Michael, on the benefits of nepotism
"Try to pry open those front doors. Use your talons!"— Dwight, to Pam in the elevator
"Everywhere I look it's 'Betty White this' and 'Betty White that.' Finally, a kid who's not talking about Betty White. Of course I follow him." — Creed, on Luke's Twitter
Did you dig the premiere? Are you glad that Jim and Pam are doing more pranking and less parenting? Tell me your own favorite lines in the comments below or head on over to The Office community group!