Recap and Review of 90210 Episode "Sweaty Palms and Weak Knees": Most Scandalous Moments
90210 "Sweaty Palms and Weak Knees": Most Scandalous Moments
After the dramatic final scene in last week's episode of 90210, I was expecting some major dramz this time around. And we do get some interesting developments, but overall I didn't feel particularly scandalized. Then Liam changed my mind by defying the laws of anger management and attacking Mr. Cannon.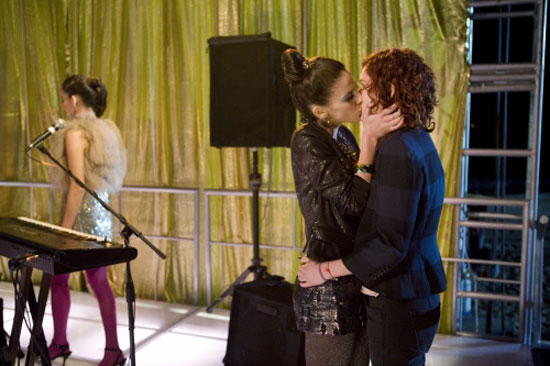 Love is in the air for most of the kids: Jasper continues his tortured (and now unrequited) devotion for Annie, Teddy proves himself to Silver, and Ivy and Dixon join forces. Oh, and how could I forget Gia and Adrianna's big PDA? To recount the best moments, just
.
Jasper almost kills himself, but . . . He makes a miracle recovery after leaping off the Hollywood sign. Sigh, it's never that easy to get rid of an annoying character (unless, of course, we're talking about Johnny on The O.C., who fell off a cliff). Anyway, Jasper's uber creepy dad (at least now we know where Jasper gets it from) asks Annie to visit his son one last time before he's carted off to a mental institution. When Annie gets there, Jasper continues to bemoan that life without Annie isn't worth living, along with a few other things I missed because I was too distracted by his prominently featured earring. He eventually promises never to reveal Annie's big secret about his uncle. Yeah, right.
Dixon and Ivy put on a showmance. Both unlucky in love and feeling patronized by their friends (or treated like a baby bird, in Ivy's case), Dixon and Ivy decide to fake a relationship to fit in and make their exes jealous. Dixon's clearly a little too good from the start, buying Ivy a sweet necklace as a display of his affection — though, it's Ivy who starts in with the pet names. (Her choice of "poopie" makes it a lot more clear why this girl isn't in a relationship.) The tables turn when Naomi overhears Ivy lamenting over her feelings for Liam with her mom and goes straight into bitch mode. At first I understood why Naomi was threatened by Ivy, but now that the girl fight has come and gone, it just seems cold-hearted to make Ivy feel any worse about it. No matter though, because Ivy pulls Dixon in for a full-on makeout, causing Naomi's jaw to drop and Dixon's feelings to intensify.

Adrianna and Gia go public. Adrianna and Gia are in full courtship mode now, gettin' all flirty over some ironing — yes, ironing. Things seem to be going swimmingly until Gia realizes that Ade isn't exactly ready for public makeout sessions yet. Gia gets all worked up but Adrianna has bigger issues to deal with, like performing for the first time in front of hundreds of people. There's a classic "I can't go on stage, I'm too scared" scene, but the band rallies around Adrianna. (Sidenote: Adrianna gets all freaked out about never singing in front of people before, but hello what about her old days as the queen of musical theater? And the former child star really gets stage fright?) Anyway, it turns out to be the perfect opportunity for Adrianna to tell the world about her and Gia. Just to put the cherry on top of her perfect week, Ivy's mother offers Adrianna a record deal (because, you know, that happens).
Liam beats up Mr. Cannon. Now too far into her sea of lies, Naomi continues to pretend that she's all broken from being sexually harassed by Mr. Cannon. Liam and Silver urge her to talk to someone about it, and she agrees to "go to therapy" (translation: drink coffee outside a therapist's office). She continues to try to downplay things, so Liam takes matters into his own hands and assaults Mr. Cannon in the hallway. Ever the loyal boyfriend, he won't reveal Naomi's secret to Principal Wilson, but Naomi takes the lie to a new height to save Liam from expulsion. Something tells me this will not end well for Naomi — or her relationship with Liam.
How'd ya feel about this week's episode? Do Dixon and Ivy make a good match? Should Naomi just quit lying already? And why did Navid miss his girlfriend's band's big night?
Photo courtesy of The CW