Recap and Review of 90210 "Rats and Heroes"
90210 "Rats and Heroes": Most Scandalous Moments
Blackmail, stripteases, girl-girl kissing — oh the drama. The kids of West Beverly return from winter break on 90210 this week, and we're once again dealt a heavy dose of high school salaciousness. Silver and Naomi come back from a tanning spree in St. Barts bent on making things right with their guys, Annie is still dating Jasper (not by choice), and Navid is cooking up revenge in the form of cocaine. Even the adults get caught up in theatrics.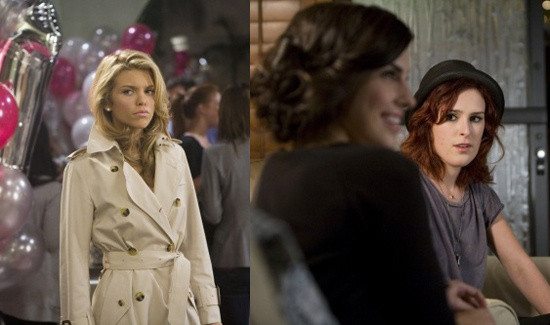 It's just the sort of soapy fun that I like from a show of this sort, so needless to say, I felt pretty satisfied. Let's break down the particularly jaw-dropping snippets when you
.
Jasper blackmails Annie into being his girlfriend. Not that we didn't all see this coming. Hello, the guy delivers flowers by breaking into her house — I feel like he's ready to go all Mark Wahlberg in Fear on her. Despite their previous argument over his drug selling, Jasper's still acting all eerily peachy keen, so Annie tells him she wants to break up. He, in turn, pulls out the standard guy rebuttal: you know, "if you break up with me, I'll tell everyone you ran over my uncle." Stuck in a tough spot, Annie agrees, despite the please-don't-kiss-me-anymore faces she makes. Dude, she's just not into you.
Navid tries to plant drugs on Jasper. He coerces Dixon into stealing the combination to Jasper's locker from his dad's office so they can sneak cocaine into Jasper's belongings. Dixon at first refuses, but seeing Annie still stuck with her bad boyfriend, he agrees to take part. The guys appear to pull off their plan as the drug dogs make their way through the hallways, but (plot twist!) there aren't any drugs in Jasper's locker — they've "mysteriously" made their way into Navid's, and he gets carted away.

Adrianna kisses Gia. Yes, the moment we've seen promo'd up the wazoo finally happens. Adrianna confides in Gia about her addiction issues, and Gia hands over her phone number as a means to help . . . or could it be for romantic reasons, too? Later at a friend's sister's 21st birthday, Gia bumps into her ex-girlfriend with someone new, and Adrianna helps out by pretending to be her date, planting a kiss on her. Adrianna doesn't seem to be that blown away, but Gia certainly looks stunned.
Selfish Dixon squashes a Silver-Teddy romance. When he returns from break, he's all hyped up on telling Silver his feelings, but she puts a cork in that by admitting their kiss was a mistake. Dixon plays along but tells Teddy that he's thinking of getting back with Silver. That spawns Teddy to take back his womanizing persona. So thanks to Dixon, no one's happy — except for Dixon, naturally.
Is Debbie's eye wandering? She finally confronts Kelly about her crush on Harry (while Harry's sweating bullets), and the two walk away friends with Debbie offering to set Kelly up with her hot yoga instructor. Here's the problem: the beefcake seems to be way more into Mrs. Wilson. We've heard that Rob Estes is leaving the show, and I can't help but wonder if a painful affair is how the writers plan on giving him the ax.
Naomi does the old naked trench coat move. After a particularly painful first date with Liam, Naomi resorts to a new tactic to keep the spark going between them. It works of course, and the two get it on in his boat, but I think it's pretty obvious that their deeper problems — like actually being able to talk to each other — are still there. Ivy is ready to swoop in at a moment's notice, though. Did you see the pure glee on her face when Liam confides in her about the couple's problems?
Tell me, what moment shocked you the most? Was it the drug switch? Debbie's new admirer? And please, can't we just get rid of Jasper? I'm dying to see the guy get what's coming to him. Share your thoughts about the episode in the comments, or check in with the 90210 Superfans group in the Buzz Community.
Photos courtesy of The CW