Recap and Review of Desperate Housewives Episode, "If . . . "
Desperate Housewives Rundown, "If . . ."
This week, Desperate Housewives finally brought us the follow-up we've all been waiting for: the aftermath of the disastrous Christmas plane crash. By the end of the episode we learn who survived, who didn't, and who's been badly injured, but along the way we also get a peek into the minds of the ladies of Wisteria Lane as they contemplate what might have been.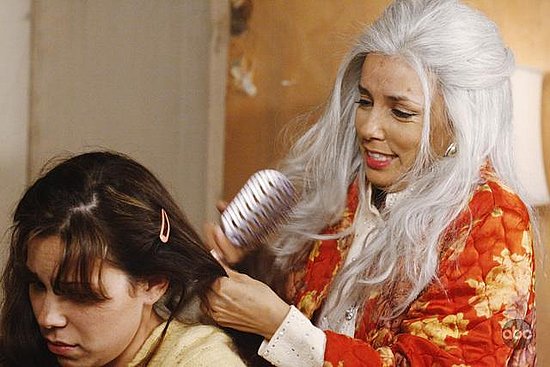 Ready to break it all down? Just
.
Susan: With Karl's life on the line, Susan reflects on her failed marriage and what could have been had they not divorced. In the alternate universe, Susan eats her feelings. Aaand then there's a fat suit. (Anyone else reminded of that Friends episode when Monica imagines that she had never lost weight?) Anyway, alterna-Susan tries unsuccessfully to seduce Mike, then whips herself back into shape and Karl leaves her. Back in real time, Susan learns that Karl is dead, and though she's understandably upset about it, she knows that she did the right thing leaving him all those years ago.
Gaby: The feud between the Scavos and Solises is definitely over, and Carlos tells Lynette that he and Gaby owe her everything for saving Celia. Gabrielle, on the other hand, chooses to believe that God saved Celia because she's special and must have some kind of gift. As she's about to get carried away wondering about her daughter's special talents, Gaby has a dream about a future where she's morphed into an obsessive stage mom. By the end of her vision, Gaby has grown old (which is actually one of my favorite parts of the episode) and her pushiness has lead to her loneliness and Celia's sadness. Before she can get ahead of herself, Gaby wakes up and realizes that Celia is already special all on her own.
Lynette: Lynette's situation is by far the most depressing. We all saw this one coming: after a few minutes in the hospital, she realizes that something is wrong with the twins. The doctor tells her and Tom that one of the twins may be disabled, and Lynette has her own dream about raising a child with a disability. Her vision is painfully depressing at first as we watch Lynette struggle with a disabled infant, then cracking down on her son at an older age. Eventually, Lynette is redeemed by her son's valedictorian speech thanking her for all that she's done for him over the years. When she wakes, Lynette is feeling strong and confident, but Tom reveals that they've lost one of the twins, whom they name Patrick.
Bree: When Bree learns of Karl's death, she becomes hysterical and needs to be sedated. She then dreams of a world where she's married to Karl, and it first it's all fun and sexy escapades. Fast forward 10 years, and Bree catches Karl going back to his old ways. After leaving him, Bree learns that Orson has died and that he's been alone all these years. She goes to collect his things, and there are photos of Bree all over the house (the nurse even goes as far to say that Orson has "died of a broken heart"). Bree awakes and is happy to learn that Orson is still alive — but how it will affect their relationship now that he's paralyzed? Also, I'm already wondering if this is going to be Carlos all over again, and Orson's handicap will be an obstacle for a half a season before the writers get sick of it and give him a miracle cure.
Angie: Unlike their fellow Wisteria Lane residents, the Bolens are praying for death — Mona's death, to be specific. Turns out Mona isn't exactly dead yet, and the Bolens are less than thrilled to hear that she's on her way to making a miraculous recovery. Angie then envisions what could happen if Mona wakes up and tells the cops everything. I'm sure it's something she's thought about before — jail, an orange jumpsuit, the whole shebang. We learn that Angie had been involved with a man named Patrick Logan, who's still on the run. Apparently she hasn't seen her former lover for 18 years, which, to me, means that Nick is probably not Danny/Tyler's real father. Angie then envisions herself confronting and pleading with the family of the man she was involved in killing and is sentenced to life imprisonment. Just as she's being carted off to jail, Mona dies and the Bolens breathe a collective sigh of relief.
Overall, I was a bit disappointed by this week's episode. Some of the visions were interesting (like Angie's), but on the whole I felt like it was filler to drag out the suspense of the crash until the very end — but really, I can't say that I was surprised by any of the happenings. What are your thoughts? Will you miss Karl? Are you still interested in the Bolens' back story?
Photo copyright 2009 ABC, Inc.