Recap and Review of Desperate Housewives Episode "The Chase"
Desperate Housewives Rundown, "The Chase"
This week's episode of Desperate Housewives brings some interesting new developments: notably, Katherine's relationship with Robin progresses, Bree gets an interesting new employee, and the Bolens learn of Danny's whereabouts. As for the other housewives, Susan meddles in Mrs. McCluskey's relationship while Gaby bonds with Bob Lee and Lynette makes a major mommy no-no.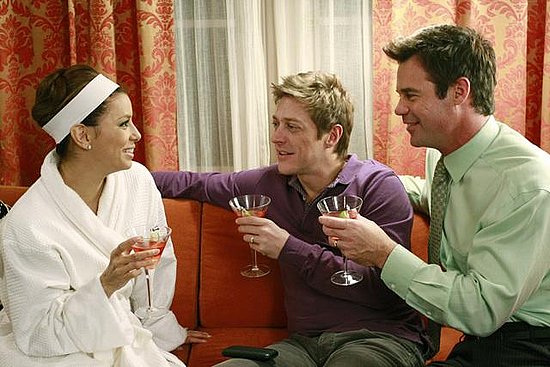 Ready to recap all the happenings on Wisteria Lane? Just
.
So, Celia comes home with a case of chicken pox, giving Gaby an all-expenses paid vacation at chez Bob and Lee. Naturally, Gaby settles down nicely into their lavish lifestyle, which comes complete with cocktails, nap time, and parties where she can reminisce about her modeling days. It's all fun and games until she accidentally happens upon their unfinished nursery, and Bob admits that he and Lee are trying to adopt. I thought Bob and Lee's heart-to-heart was really refreshing, especially since the couple is usually the comic relief on the block. I'd love to see them trying to raise a baby in their perfectly fancy house.
I am so not buying that Lynette and Tom manage to forget about Penny's birthday. First of all, don't 11-year-olds still get big birthday parties these days? And what 10-year-old doesn't start talking about their birthday weeks (if not months) in advance — and start asking for presents? And is it just me, or does Lynette blame everything on her pregnancy? I'm ready for the new baby to bring in some new drama for the Scavos.
Roy and Karen's engagement is totally cute. . . until Roy ruins it with his wandering eye problem. Luckily the whole thing is resolved, and all tied up with a sweet bow when Karen's cancer scare makes Roy realize his feelings. I just hope poor Mrs. McCluskey pulls through!
Bree's new employee, Sam, comes on strong, lays it on thick, and doesn't stop there. He quickly uncovers Andrew's affair with Tad, the bonehead new worker, and in no time has Bree wrapped around his finger. Bree's done her fair share of manipulating, so I was surprised that she doesn't see right through his antics.
The cat's out of the bag once Sam looks lovingly at Andrew's "World's Best Son" mug (hilarious throwback to The Office, by the way). So, is Sam Bree's long-lost son, or is he just a nut that wants to be her new son? Either way, I don't like where this is going.
All it takes is one sexy dream for Katherine to reconsider her stance on Robin, and they end up in the sack. I like Robin as a fresh face on the show, but I can totally see Katherine pulling a 180 and calling it a one-night experiment. Do you want to see them pursue the relationship?
Photo copyright 2010 ABC, Inc.