Recap and Review of Desperate Housewives Episode "Lovely"
Desperate Housewives Rundown, "Lovely"
This week on Desperate Housewives, Robin settles into her new life on Wisteria Lane — and perhaps gets a bit too comfortable. Once Susan spills the beans about Robin's former life as a stripper, it isn't long before each of the housewives has their own run-in with their brand-new neighbor.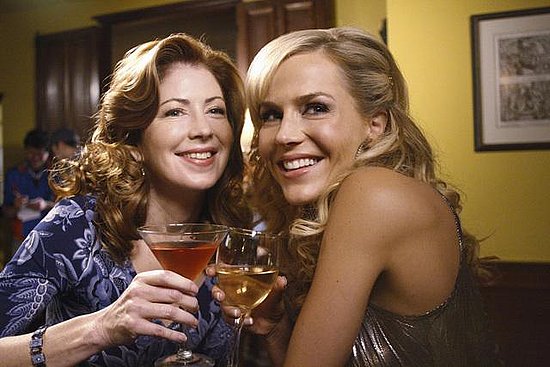 By the end of the episode we learn a little more about how biased the Wisteria Lane ladies are, and a whole lot more about what makes Robin tick. To get into it, just
.
This isn't the first time Desperate Housewives has experimented with the vignette-like episode, but this time around I really enjoyed it and felt like each story stood well on its own.
It seemed like most of the housewives treat Robin less like a stripper and more like a prostitute, and apparently the confusion is universal. I was kind of shocked that Parker tries to pay for sex and is so desperate to lose that V-card when he's only 16-years-old. On the bright side, Tom's speech was sweet, and I especially loved hearing the story of Tom and Lynette's first date.
So after all that insisting that Ana graduate from high school, Gaby and Carlos decide to uproot her and ship her off to New York just to get her away from Danny. Seriously? I would have understood if there were another attack on Wisteria Lane or if Danny had engaged in violet behavior, but Gaby and Carlos really need to sabotage their relationship?
Bree is by far the most hilarious this week, thanks to one of the most awkward lap dances I've ever seen. After getting some advice from Robin, she decides to spice things up by dancing "proactively" to The Nutcracker (which, of course, is part of the turn-on for Orson). It all works out for the best, though, and my favorite line of the night goes to Orson: "If you're having a stroke, we'll make a great team."
Susan's good-doing comes crashing down quickly when she learns of Robin's chiropractic skills. All the over-emphasized sex noises coming from Mike's pain relief are too much for her to bear, and Robin decides to move out. It didn't make much sense for Susan to take in a complete stranger in the first place, but the way she kicked her out seemed even more bizarre.
The juiciest story of the episode goes to Katherine. What starts out as an innocent girls' bonding night gets scandalous when Robin plants a big one on Katherine. At first, it just seems like an act to put some jerks in their place, but Robin later reveals that she's a "card-carrying" lesbian. Katherine seems a bit uncomfortable initially, but at the end of the episode it's clear that she's going to weigh her options with her new roommate. Definitely not what I expected, but I'll be happy to see Katherine move on with anyone as long as she's not stalking Mike anymore.
How'd you feel about this week's episode? Would you be perturbed if a stripper moved on to your block?
Photo copyright 2010 ABC, Inc.