Recap and Review of Grey's Anatomy Episode, "State of Love and Trust"
Grey's Anatomy Rundown, "State of Love and Trust"
There's a new sheriff in town on Grey's Anatomy this week, and his name's Derek Shepherd. Instead of a shiny badge, Derek comes brandishing a snazzy new outfit (complete with tie!) to move into his new office, greet the surgeons as their chief, and most important — square off with Webber yet again.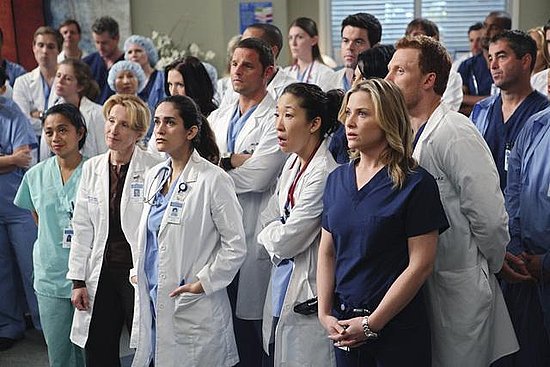 Elsewhere, Lexie and Mark continue their relationship issues, Cristina gets burned (literally), and Bailey gets her confidence shaken by a patient. If you're ready to break it down, just
.
The Cristina/Teddy/Owen love triangle is intensifying, though it's so much more than two women fighting over one man. In fact, this week Cristina is caught between Owen's "caveman-like" libido and the surgeries Teddy can offer her at the hospital. Cristina ends up choosing Owen, but it seems to take a fair amount of coaxing — and she seems genuinely sad when Teddy reveals her personal disappointment. We already know that Cristina cares more about her job than her love life, but I'm ready to see how she reacts when Owen and Teddy inevitably hook up.
In this week's "everyone's worst nightmare" story line, Bailey and Meredith have a crisis situation when their patient wakes up during surgery. Naturally the patient is freaked out and refuses to let Bailey operate on her thanks to Bailey's terrified reaction in the OR. Bailey typically beats herself up over it but manages to exchange a few flirtations with the anesthesiologist in the process (after giving him an undeserved verbal lashing, that is).
As Derek breaks in his new office with a basketball hoop, Richard has to make a choice between quitting or going to rehab. He's understandably tired of letting Derek boss him around, but only Bailey can get through to him in the end about getting his life together and taking back what's rightfully his. Meanwhile, Derek plays the good guy and rehires the staff that had gotten the boot. Anyone else smell an "I told you so" moment in a future episode when Richard returns from rehab and Derek's plan goes horribly awry?
Grey's wouldn't be Grey's without all the soapy relationship drama, but I actually found myself feeling for Lexie this week. I fully agree with Callie that he's being a baby (especially given his whole history with cheating), and the final scene in the elevator was kinda heartbreaking. On the other hand, does Lexie even want him back if it means a life of living with his adult daughter and grandchild? Whose side are you on?
What did you think of this week's episode? Did you miss Izzie?
Photo copyright 2010 ABC, Inc.