Recap and Review of Grey's Anatomy Episode "Sympathy For the Parents"
Grey's Anatomy Rundown, "Sympathy For the Parents"
The title of this week's episode of Grey's says it all. Babies are on the brain for many of Seattle Grace's surgeons, as we learn a whole lot more about Alex's parents (as well as the rest of his family, and his childhood). Though the baby fever trend started a few episodes back with Callie and Arizona's disagreement, now the word has spread to Meredith and Derek's relationship, and beyond.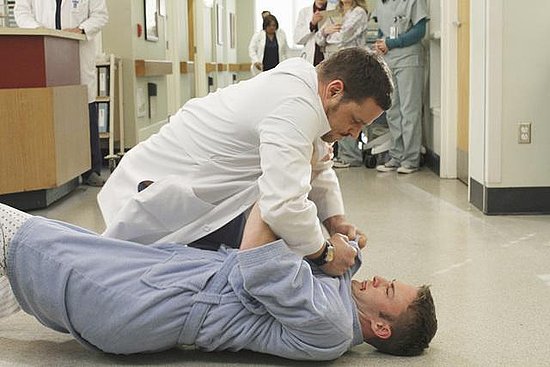 There are a couple of twists this week too, so to break it all down just
.
Oh brother! Alex's long-lost sibling shows up on his doorstep, seemingly from nowhere. As it turns out, Alex hasn't been home in seven long years, leaving behind a sister in addition to bro Aaron. (Love that they all have A names, by the way. Way too precious for tough guy Karev.) We find out that Alex was actually a former foster kid and juvenile delinquent. Given all the pent-up anger Alex has expressed over the years, I can't say I was particularly shocked to learn about his past, though you think it would have come up before since Izzie came from a rough background and a broken home as well.
Derek drops a tiny bomb on Meredith, mentioning that he wants to have babies. Again, not so shocked here — this has never come up between these two? Get real. It is refreshing to see a bit of the old, dark, and twisty Mere, though she handles the whole situation pretty well. The real question is what's going to happen when Dr. Kepner's little crush on Derek comes to light. The girl can hardly peel her eyes off of him, so you know it's going to raise an issue — especially now that Lexie is on to her.
Speaking of Lexie, she and Mark finally have a moment, albeit a tiny one. Because, you know — Mark's too busy pounding Teddy's cake (or is it Teddy who's pounding Mark's cake?). Either way, their sexy time gets interrupted when little Sloan shows up unannounced and in labor. Her timing couldn't possibly be more impeccable.
It seems like Teddy is about to confess to Mark that she's still got the hots for Owen, and their connection is more apparent than ever this week. Owen is still coping with his PTSD, which is always a problem for him and Cristina. This time Teddy gets to be the hero as she tells Cristina to stop pressuring Owen to go into therapy, though he makes the decision for himself at the end of the episode. Still, he doesn't look thrilled when Cristina weighs in on the week's hot topic (babies!), which makes me believe that we're just at the beginning of a slow descent into crash and burn territory for these two.
How'd you like this week's episode? Are there still sparks between Lexie and Mark or do you prefer Mark and Teddy? And more importantly, which of these couples can you actually see with kids?
Photo copyright 2010 ABC, Inc.