Recap and Review of Grey's Anatomy Episode, "The Time Warp"
Grey's Anatomy Recap, "The Time Warp"
Ever since I saw the first photo of Chandra Wilson all done up with long braids, I couldn't wait for the flashback episode of Grey's Anatomy. Unfortunately, it turned out to be kind of a snooze — the whole thing felt forced, and what's worse is that it seemed like a whole lot of filler.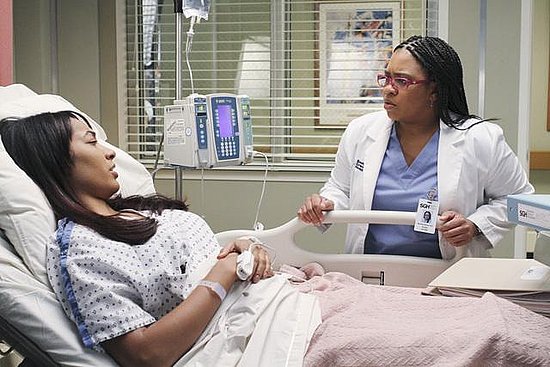 It was fun get peeks at the Chief and Bailey in their younger years, but did we really need to devote a whole episode to this? To re-live the trip down memory lane, just
.
Since not much happened in terms of plot, let's go over what we learned, shall we?
Callie has a serious fear of public speaking. Somehow this just doesn't jive with her personality for me. Between the puking and the bumbling over all the cue cards, her antics felt more like something we'd expect from Lexie than Callie. Sure, Callie's been confused and self-doubting in the past, but she's always been pretty high on the confidence scale.
The Chief has completed a 45-day rehab program and is back at Seattle Grace, looking for his job. That went fast, eh? He missed fewer episodes than Izzie! He's not happy about working under Derek's wing, but it looks like he's not shipping out just yet either.
Back in the day, Bailey went by "Mandy" and was a meeker, more polite version of herself. That is, until the Chief comes along and instructs her not be a "minnow". We bear witness to the first of many famous Bailey tirades as she chews out a resident who's been looking down on Mandy all along. The rest, as they say, is history.
Callie and Alex worked together on a case in the past (love that Callie thinks Alex is "not dorky, but hot" when she ends up with dorky George). After they patch up the patient, Callie and Alex get it on — though Arizona doesn't seem pleased with this development. Is it just me, or does it feel like Alex has bedded everyone?
We sneak a peek at the life, times, and affair of Richard and Ellis before they became all important doctors. It's nothing new (she wants him to leave his wife, he refuses), though we learn that Ellis is kinda responsible for Richard's drinking problem.
The more you know: Before it became known as the AIDS virus, it was called GRID (gay-related immune deficiency) for a hot second in 1982.
Were you digging this week's blast from the past, or did it leave you itching for more real-time drama?
Photo copyright 2010 ABC, Inc.