Recap and Review of The Vampire Diaries Episode "Bloodlines" 2010-01-22 05:30:51
The Vampire Diaries "Bloodlines": The Good, the Bad, and the Bloody
The wait is over! The Vampire Diaries returned this week, and even though I gave you not one but two sneak peeks of the brand-new episodes, it's so much more satisfying to be able to sit down with an episode.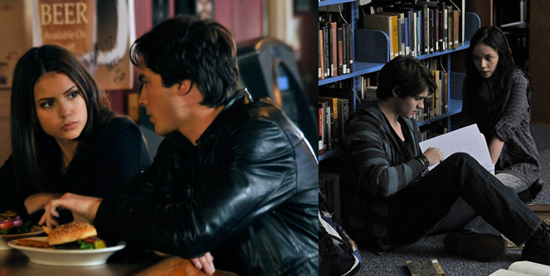 The story picks up where its mid-season cliffhanger left off — with Elena injured in a car crash and a creepy creature coming for her. But there were also amazing storylines picked up for not just Elena, but Bonnie, Jeremy, and Alaric as well, so to start talking about this week's episode, spoilers and all, just
.
The Good
Finally, we got that Stefan and Elena alone time that Nina Dobrev mentioned at the TCA. It all starts when we revisit Elena's crash site, and the hoodie-wearing monster (which we now know is a vampire) doesn't get Elena, but Damon does, rescuing her from the car. I loved the gentleness with which he talked her out, even if he does kidnap her to Georgia for kicks immediately afterward. Baby steps. The whole interlude in Georgia is actually enjoyable, since we meet Bree, Damon's wronged bartender ex, and Elena lets loose and gets drunk with Damon. Nice to see her being less intense, less encumbered.
Poor Bonnie finds herself de-witched — she needs to "clear out" whatever is frightening her, so she goes to the tomb. And falls in. She falls into a tomb, you guys. Well, tomb adjacent, anyway. And there's a pentagram on the door, which gave me the heebie-jeebies like you wouldn't believe. It's such an effective and chilling scene too — you could hear, with Bonnie, the wails of the vampire souls trapped inside. Just the sentence Stefan says, "They're starved to the point of dessication," gives me the shivers all over again.
Hey, who's the nice-looking young man? It's Jeremy! Elena's formerly hoodlum little bro has found reasons to live besides sex and drugs, and it turns out he's both cute and very smart. He continues his research about the Gilbert family and finds a new love interest (Anna) and a lead . . . about vampires in Mystic Falls.
I appreciate that the show didn't just drop Lexi and Damon's murder of her; apparently, her friend Bree and boyfriend didn't forget it either. Bree sicks Lexi's still-despondent love on Damon, who nearly kills him, if not for Elena's desperate appeal.
The Bad
And the most shocking plot twist I wasn't expecting: Elena's adopted! It explains how she could be a Gilbert while Katherine was a Pierce, which brings me to the only thing that bothered me this episode. Why do Stefan and Elena assume that she has to be a direct descendant of Katherine? As in directly from Katherine's womb? Didn't she have family, siblings that could have either produced Elena generations later, or have married Gilberts at some point? Anyway, now that we know Elena is adopted, I'm assuming these ideas will occur to the teen detectives, but still. And frankly, isn't it weirder that Elena and Katherine look exactly alike, rather than just weird that they don't share the same last name when there's a resemblance?
The Bloody
I know Bree betrayed him and all, but did Damon really have to tear out her heart? With her blood pumping full of vervain, I get why he didn't bite her, but listen closely when I say: bleh, yucky, grody gross. He could have snapped her neck or something else far less icky.
Oh, Damon, come on, guy! He's in trouble for killing two men's lady loves in this episode alone; first Lexi, and now Isobel, Alaric's wife (and by the by, it seems Alaric is a vampire hunter, but not also a vampire himself, as evidenced by losing his ring but still being in the sun). In one glance we see Alaric realize two things: that Damon is a vampire, and the same one that fed on Isobel. He is very upset.
So, what did you think? Wasn't it nice that we ended an episode without Stefan and Elena breaking up? And once again, for as many little threads that were sewn up, there were as many brand-new threads of the story that I can't wait to explore. How do you think Katherine and Elena are related? Who is the hooded monster? Chat with me below, and to show your ultimate fandom, join the Hooked on Vampire Diaries group in the Buzz Community!
Photos courtesy of The CW