Recap and Review of The Vampire Diaries Episode "There Goes the Neighborhood"
The Vampire Diaries "There Goes the Neighborhood": The Good, The Bad and The Bloody
There goes the neighborhood, indeed! The sharp-toothed residents of Mystic Falls get some company in this week's episode of The Vampire Diaries.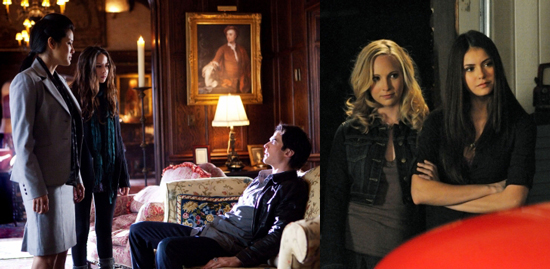 Things definitely picked up steam, with some sauciness thrown in with a lot of goriness. Still, it was a fantastic installment and I'm dying to chat, so to sink your teeth into the episode (spoilers ahead!) just
.
The Good
Oh, cuss: We see where Anna and a rehabilitated Pearl (and then some) have been hiding: a farmhouse outside of town they've converted into some kind of weird vampire halfway house. They're getting everyone up to speed with technology and modern times, like texting. So who are these other vamps? Residents of the tomb — seems Bonnie and her grandma screwed up and didn't seal them all in. BTW, Harper is kind of adorable.
It's double date time, ex-files edition: Matt and Caroline and Elena and Stefan go out to the only bar in town to cut down the awkwardness. No luck: it's already awkward, but things really go south when Matt and Elena rehash the good old times, while Caroline fumes. Surprisingly, Stefan is ultra-cool with the whole situation, conceding that he seems like a dick to Matt and bonding with him over cars.
Pearl is one commanding she-monster. She and Anna drop in on Damon, revealing that she wants all the info Damon has on the families involved in the Secret Council. Pearl wants to take back Mystic Falls and "rebuild" and uses her bargaining chip: Katherine. Damon denies he wants to see her again, but you can tell there's a little part of him that totally wants to see her again.
Damon "visits Cougartown," downing shots with Jenna and Kelly, who happen to be old friends. Predictably, Damon brings Kelly home to his lair, but it doesn't go that far — Matt and Caroline walk in on them (wasn't it funny when Caroline vaguely remembers being there?).
Jeremy has a suspicion that Anna's a vampire, but she insists she made all her prior knowledge up. Well, she can't hide it any longer when Jeremy deliberately slices open his hand (ugh, WHY), and temps Anna with it. "Go for it," he says, and that she does, slurping to her little heart's content. When she angrily confronts him for letting him suck his blood, he points out that she didn't kill him. It's also kind of sad and sweet that he wants to know more to resolve what happened to Vicky. Biggest OMG moment? The very last one when Jeremy tells Anna that he wants her to turn him. The appropriate reaction to this is "Whaaaaat!"
Random Buffy allusion? Jenna's last name is Summers.
The Bad
The Bad: Where's Bonnie? She got one name-drop this episode but no screen-time?! Bring her back! They need her powers now more than ever.
The Bloody
Pearl sticks her fingers in Damon's eyes! Gag.
Did Jeremy really have to dice open his hand like that? I think it needed stitches. Couldn't a paper cut have sufficed?
Pretty sure this was the bloodiest episode ever! Frederick and his lady minion literally crash into Damon and Stefan's place, and Stefan stabs the lady minion with the broken glass. Then, Pearl, angry they went out, stabs Frederick with a wooden spoon in the gut. I said it before, and I'll say it again: Gaaag.
So, what did you think of the show this week? Chat about it below, and if you really want to show your love, join the Hooked on Vampire Diaries group in the Buzz Community!
Photos courtesy of The CW