Recap and Review of The Vampire Diaries "A Few Good Men"
The Vampire Diaries "A Few Good Men": The Good, the Bad, and the Bloody
After a few sad weeks sans The Vampire Diaries, the show is back this week with a satisfying, thrilling ep. We met a couple of new characters and learned some pretty juicy info about Elena and her birth mother, and even got to see the bachelor auction that was in the most recent promo.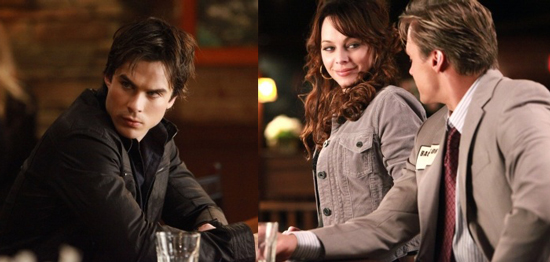 There's a ton I want to talk about, but I can't do it without revealing spoilers, so just
.
The Good:
Elena's origin story just got a lot more compelling. When she asks Jenna if she knows anything about her birth mom, Jenna admits she found the name Isobel Peterson on her dad's books and then deduces the last name must have been that of a friend. Jenna's Internet search reveals two important people: Isobel Flemming and Trudie Peterson. A trip to Trudie's isn't the tea-and-sympathy meeting Elena had hoped for; after putting vervain in Elena's tea, Trudie kicks Elena out, but not before texting someone "she's here" and telling Elena she has no idea about her birth father. On Elena's way out, she's observed by a creepy dude, who later meets with Trudie and throws her down the stairs after her purpose has been served.
Aaah! Isobel, Elena's birth mom and Alaric's ex, is a vampire! The whole episode seemed to revolve around many characters trying to get information about what happened to her, and in the final confrontation between Damon and Alaric, Damon admits that he turned Isobel after she had begged him to. Did she want to become a vampire because of her possible relation to Katherine or because her research had made her curious to the point of obsession?
This show has a handle on creepiness. Who is this scary man who's been compelled to work for Isobel? He's so foreboding, standing in the street, telling Elena to stop looking for "her." By the by, didn't it kind of seem like he meant to get himself killed? Do these people serving Isobel have to die once they've done their part?
One thing I'm relieved about: that Alaric was OK. I've gotten pretty attached to him, and his flashback scenes are some of the best parts of the episode. It really looked like Damon killed him, Stefan finding his body while Damon muses that Katherine must have sent Isobel to him. When Damon departs, though, Alaric suddenly wakes, realizing the ring his wife had given him years before had protected him. But how?
We meet the escaped vampire from the tomb, Harper, who also has a ring (guess they're not as rare as they first seemed). I actually felt a little bad for him, as he seemed to be so confused about the modern time; lucky for him, he eventually finds Pearl and joins her in a Mystic Falls house.
The Bad:
No scandals yet for Kelly, Matt's mom (The O.C.'s Melinda Clarke)? I guess we can expect some trouble making soon enough, but I was hoping she'd start shaking things up immediately, besides just intimidating Caroline.
The Bloody
It's rare that we see a vampire attack someone in the light of day, but Harper did. At least he apologized.
Another rarity is the fact that there were multiple deaths this week, and not all of them were caused by vampires. Someone is tossed down a staircase like a ragdoll, and another is suddenly hit by a car.
The craziest reveal is definitely that Isobel isn't dead and gone, but a vampire. How soon will Elena find her, and why is she dodging her child? That's hardly my only question: Who is Elena's birth father? What are the formerly tomb-dwelling vampires going to do in Mystic Falls? In any case, tell me your thoughts on this week's show and if you want more, join the Hooked on Vampire Diaries group in the Buzz Community!
Photos courtesy of The CW