Recap of True Blood Episode "Hitting the Ground"
True Blood Bites "Hitting the Ground" Episode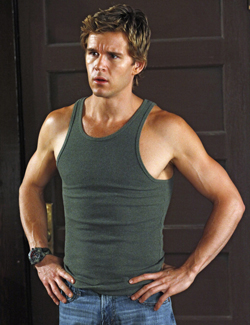 The last few episodes of True Blood have actually not been incredibly bloody, but this week really made up for lost time with stakings, beheadings, wrist sawings, dog fights, and just generally a lot of drippy red stuff. Obviously, this series is not for the squeamish, but how satisfying it is!
Ready to let it (your enthusiasm, that is) bleed? I've got the full rundown of everything that went down. Just read on, compadres.
Best totally-out-of-left-field dream sequence: When Sookie slips into a coma at the hospital and "wakes up" in an oddly romantic-looking hospital room, it's clear that this season is about to get (even) weirder. The pool is much deeper than it looks indeed, weird tulle dress-wearing lady (her name is Claudine . . . foreshadowing).
Best comeuppance: This one is a tie, because I can't stand Lorena or the creepy Magister, and it's extremely satisfying to see both of them turned into disgusting blobs of blood aspic. I also didn't like that creepy, evil wolf pack leader, but it just seemed too easy for Alcide to kill him.
Best Kill Bill moment: When Tara shoves Bill out of the back of the van and into the sunlight, it's both incredibly hardcore and a big relief, since he's been seriously messed up lately. Plus, Tara deserves to kick some butt after everything she's been through with Franklin, Eggs, and her mom.
Best Officer Jason Stackhouse moment: For someone who wants to be a cop, Jason is certainly willing to break the law any time it suits his fancy. The look on Lafayette's face when Jason asks him for crystal meth to bribe Crystal's cousin is a great piece of acting, and Jason hitting his head on the pan while trying to explain himself was one of the best comic moments in an otherwise gory episode.
Best chance to see the darkness that lies within Sookie: Maybe Claudine is right about Bill stealing Sookie's light, because the look of total satisfaction on her face when she stakes Lorena made her seem a lot more like Drew Barrymore in Firestarter than the sweet Bon Temps waitress we've come to know. Here's hoping she drops the goody two-shoes act for good soon.
Best, uh, biscuits: Summer has the hots for Hoyt in a big way, and I love that she makes sure to tell him that she hand-churned the butter all by herself. I can totally see this girl turning into Betty White in 50 years. As Jason says, she's going to make an awesome grandma.
Best word play: Speaking of drugs, it isn't very nice of Hoyt to suggest that Crystal's middle name is "Meth," but it's a heck of a lot better than Jason's champagne-related idea. Why can't a girl just be named after a nice, normal sort of rock, or a Jim Henson movie from the '80s?
Best naked man of the episode: Every episode, at least one guy on True Blood is required to strip down to his skivvies and parade around. Since all of the other naked men this week are soaked in blood and gore, the win goes to Sam, who not only looks hot, but also frees a bunch of adorable doggies while in the buff. PETA should recruit him for its I'd Rather Go Naked Than Wear Fur campaign.
Best air kisses: After Russell and Sophie Anne are "married," they air kiss like a couple of LA ladies who lunch. We're scared of Russell, but we have to admit that seeing these two together is probably going to be extremely entertaining.
What did you think of this week's episode? What was your take on Sookie's dream sequence? Share your comments below, and check out the True Blood Southern Vampire Series group for even more fun!