Recap of The Vampire Diaries Episode "Let the Right One In"
The Vampire Diaries, "Let the Right One In": The Good, the Bad, and the Bloody
I'll admit that I wasn't sure how the Salvatore brothers could survive this week's The Vampire Diaries. When Stefan gets nabbed by Frederick and his fanged friends, you basically have the perfect setup for a bloodbath — and the episode doesn't disappoint in that department.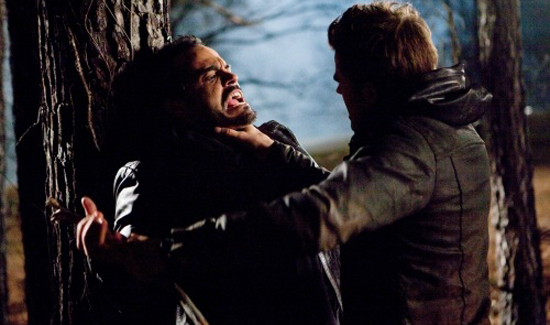 But if it wasn't the gore making me cringe, it was Elena's stupidity. Seriously, Elena, do you think going into a lair of bloodsuckers is a good idea?! Let's break down all of the big moments (spoilers ahead!) when you
.
The Good
Frederick is making a stake. Ooooo. I wondered if it was to use against the Salvatores, or against Pearl since she doesn't seem to be behind his vengeful motives. Turns out, Freddy boy has a clan of vamps just waiting to capture Stefan, which they do, and soon he's tied up with vervain ropes.
Can you say sexual tension? Elena and Damon get into it while standing thisclose (in the rain, no less) as they argue about if Elena can go to save Stefan. They really have a nice mix of heat and genuine concern for each other. I guess time will only tell when/if these two get together.
Harper, the hero! As a hellbent Frederick continues to torture Stefan, Harper is the only one who puts up a fight. I relished seeing him step up to help Stefan and watching Stefan return the favor by removing the stake from his leg.
Jeremy continues trying to convince Anna to change him, and you can tell that she has a major crush (is in love?) with the guy — even to the point where she tells him to keep the bracelet that Elena gave him for protection.
The newest odd couple: Damon and Mr. Saltzman. The sworn enemies come together to save Stefan from the vampires with the help of vervain needles. I had to smile when Damon calls them both bad ass — and Saltzman punches him in response.
Vickie's body turns up! Caroline literally stumbles upon it when her car gets stuck in the woods, and it makes for an awesome end of the episode. Tyler and Jeremy seem to share a moment of mutual grief, but when Caroline tries to comfort Matt, he asks to be alone. That is, until Elena hugs him. Nooooo. Even worse: Anna shows up to turn Jeremy, and because of his grief, she realizes the real reason he wanted to be changed — to be with Vickie. Huh? I did not see that coming.

The Bad

Elena, you idiot. Even though Damon and Saltzman told her not to follow them into the house, she still goes in and risks her life . . . and theirs . . . and Stefan's. Ugh, sometimes she can be so annoying.
The text exchange between Jeremy and Anna. Her: "Suck it up." Him: "Turn me and I will." Puh-leease.

The Bloody

The torture scene with Stefan. Pouring vervain in his eyes made me positively cringe, but you have to admit those abs looked hot!
Frederick stabs Stefan, and Damon kills, well, everyone. As Frederick is about to lunge for a frail Stefan, Elena feeds her BF her blood, which he reluctantly drinks up. Frederick goes in for the kill, and Stefan slams him against a tree while repeatedly slashing into him. Now Stefan is addicted to human blood, as Damon catches him chugging some hospital bags. Icky, but it makes for a really, um, juicy setup for the upcoming episodes, no?
Vickie's dead arm. So gross, but campy. I liked it — is that so wrong?
What did you think of this week's episode? Are you kind of sad about Anna and Jeremy? Shocked to see Vickie turn up again? Sound off in the comments, or chat to your heart's content in the Hooked on Vampire Diaries group in the Buzz Community.
Photos courtesy of The CW