Reign TV Show Info
The CW's New Show Is Going in a Totally New Direction
In case you're thinking a new historical drama may not be your thing, consider this: it's on The CW and The Lumineers are on the soundtrack. Reign stopped by for their TCA panel this week, and they were pretty persuasive as to why audiences should tune in. Adelaide Kane (aka Mary, Queen of Scots), Toby Regbo, Torrance Coombs, Megan Follows, and executive producer Laurie McCarthy talked to reporters about the show's unique soundtrack, which includes exclusive music from The Lumineers, as well as why they're OK with bending the truth when it comes to historical accuracy.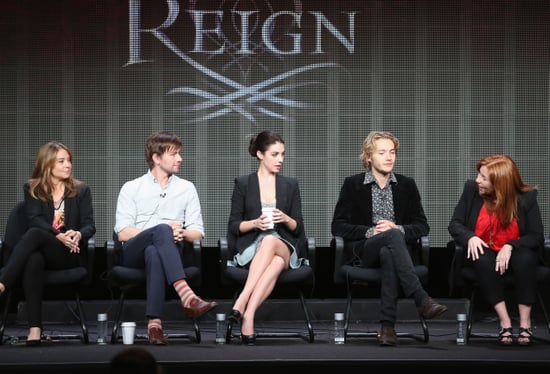 The CW is really great at integrating music into their shows, but a drama that takes place centuries ago poses a unique issue with using contemporary music. While they are planning on using pop music that does have a Celtic theme, McCarthy confirmed they'll be sticking with modern music, specifically by The Lumineers. The band provided exclusive music for the pilot, and they'll continue to be involved with the series in some capacity. The audience will hear it, but the characters won't. "It's to transport you emotionally, not to disconnect you," from the story, McCarthy said.
"Historical drama" is a term the panel shied away from, because the real story of Mary, Queen of Scots, is just a jumping-off point for the show. Why aren't they planning on a straight-up historical show? "How many teenage girls do you know that are obsessed with history?" joked Kane. "I don't feel bound creatively, I feel liberated by it," explained McCarthy about incorporating the real details of Mary's life. "I, for one, am grateful for a little creative license," said Coombs, who plays Prince Francis's half brother, Bash, who is part of the central love triangle on the show. "Historically, I don't exist."
Look forward to lots of supernatural elements as well. The pilot contains hints about the haunted nature of the castle, but McCarthy ominously hinted that while ultimately it's a love story between Mary and Prince Francis (Regbo), "it has more of a horror element, which you'll see." McCarthy made the show sound pretty dark, saying "there will be escalations and violence." Follows, who plays Queen Catherine, added, "It's a dark world, and heads do roll . . . there's survival at stake."