Revenge Recap of "Collusion"
Revenge: Ranking the Biggest Scandals From "Collusion"
This week's Revenge starts off between the sheets — seems Emily is a little confused about which handsome gentleman she's playing — and ends with murder! Just kidding about that last part: there's not a lot of action in this week's episode. But there is a lot of buildup. Victoria has a target on her back, Grayson Senior and Junior both score new acquisitions, and nobody cares about Charlotte's birthday. Sad face. We also find out what Nolan's secretive computer program has the ability to do, but not exactly what the Initiative wants with it.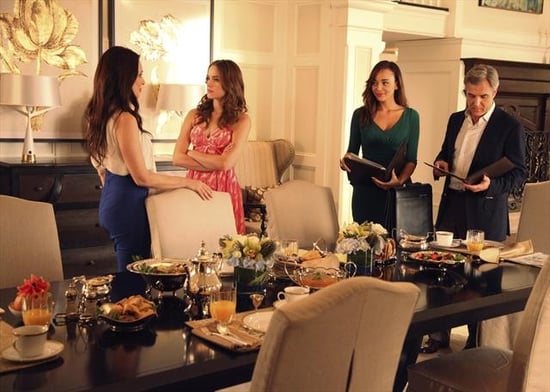 This week's episode is actually the most centralized in a while, except for that pesky Stowaway situation. Can we just give it up already? Having said that, there are more than enough gasp-worthy tidbits in "Collusion." Let's get into the most salacious moments after the jump.
Aiden almost kills Victoria . . . twice. Aiden is on the warpath after finding out his sister is still alive. Though she's being held captive and forced to take drugs (she may even be dead of an overdose at this point), the Initiative is willing to trade her life for Victoria's. Ha! That's like telling someone to kill James Bond. It's just not going to happen. Why don't they pick an easier target like Ashley or Amanda? In any case, he doesn't take the shot, despite being perfectly positioned twice. If only Victoria knew she'd be dead if not for a curtain and Emily.
Nolan baits Padma. Nolan has been informed that Padma is playing for the dark side, but he needs to see it with his own eyes. She tips him off at first when she lets on that she knows Carrion is a computer program (what is that sloppy move about?), so he sets up a trap. He puts the program where he knows she'll find it, then watches her put it in the computer. Is anyone else a little confused as to why this super-high-tech program looks like it was created by a teenager in 1984?
Nolan's computer program could do some serious damage. What's all the fuss about a silly computer program? Turns out Carrion (previously assumed to be Carrie Ann) has the ability to knock New York City off the power grid in less than a second. No wonder everyone wants their hands on it, but what evil plans does the Initiative have?
Conrad owns the Stowaway, for now. Conrad bucks up this week and confronts Kenny (the more compassionate Ryan brother) about the bar. Kenny signs it over, but when his slightly more aggressive brother gets wind of the deal, he marches over to Grayson manor to talk shop with Conrad. He wants to own the whole dock, and Conrad is kind of cramping his style. At first Conrad resists, but then once he sees the bigger picture (world domination!), he agrees it's time to talk business. I'm so over this side story that it better result in a major payoff, because it feels like a lot of time wasted.
Victoria seduces Jason Prosser. Jason's still hanging around hoping to get a piece of Victoria . . . I mean, Stonehaven. He, Victoria, Daniel, and Emily travel to California to meet with the CEO to put in their bids, but Victoria isn't about to let Daniel get his hands on the property. She knows Jason's wanted her all along and exploits his crush for all it's worth. Too bad Daniel has Emily and Nolan on his side. Nolan digs up dirt on Jason, and voilà! Stonehaven is Daniel's for the taking.
What's your take on the episode? Who's going to die next week? My money's on Declan — he's been a bit of a nuisance lately.