Revenge Recap of Destiny
Revenge Season Premiere: Ranking the Biggest Scandals
Season two of Revenge is officially underway, and let's just say things are decidedly less glamorous in the Hamptons this year. We don't start off with a murder, but then again, there are still plenty of mysteries floating in the ether. It's been a busy few weeks: Emily has been spending time trying to unlock memories of the mother she now suspects is alive, Charlotte has been in rehab, Jack has been supporting pregnant Amanda, and Daniel and Ashley are together.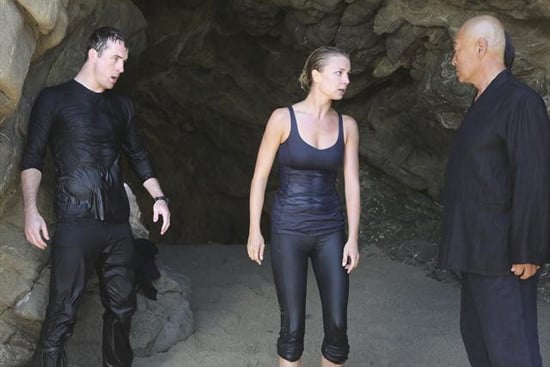 There are a couple of new characters to look out for, including one of Emily's frenemies from Takeda's training camp and a rehab counselor I'd like to call Dr. Shady. The premiere is full of juicy hints at the season to come, and I can't wait to delve into it. Let's get into all the details — and spoilers — when you read more.
Victoria is alive. When you have as good a villain as Victoria

Grayson

, you can't just kill her off. She's like Michael Myers — she'll just pop up again. I never fully believed her plane went down and I still don't completely believe her explanation. The government is keeping her safe? Please.
Charlotte flips out at the memorial. I thought the real shocker is in how highly Charlotte speaks of her family, but then things take a turn when Dr. Shady shows up and says he's found drugs in her system. We all know it's an elaborate scheme, but I didn't anticipate the scene she makes when they have to drag her out. Victoria would so not approve.
Jack might not be the father of Amanda's baby. There's trouble in paradise for Amanda and Jack, and it's hard to know who to blame. Obviously, she's been lying to him since day one, but he still doesn't know that, and innocence is bliss, right? Aside from generally not loving her anymore, he can sense something is amiss, and when Emily gently suggests a paternity test, he can't resist asking for one. Smart move, we all know that girl can't be trusted.
Emily's mom was in a mental ward. Emily's been using some unique memory-retrieval techniques, like drowning herself in the ocean until she passes out. She uncovers some memories of her mother, whom she now suspects Victoria might have put in a mental hospital. That mental ward looked like it had been abandoned for decades . . . Is there any chance it could be the American Horror Story institution? (Crossover alert!)
Ashley and Daniel are together. Ick. As far as I can tell, Ashley's turned into kind of an insufferable succubus. Conrad has a slightly different take on her, calling her "delightfully frothy," but there's no doubt that girl has an agenda. She barely cares that Daniel is swirling into alcoholic oblivion, a side effect of his decision to turn into a real Grayson. Sadly, it seems that, without Emily to keep him on the moral path, the reign of innocence in Daniel has ended.
Other burning questions swirling from the premiere: since when are Emily and Charlotte best friends? Does Conrad really want to get to Charlotte's inheritance? Has Daniel reached the point of no return? How much do you love that Nolan is crashing on Emily's couch?