Revenge Recap of "Engagement"
Revenge: Ranking the Biggest Scandals From "Engagement"
Though titled "Engagement," this week's Revenge episode has so much more in store than a simple engagement plot. Emily and Daniel are back on for marriage, much to Aiden's chagrin. Charlotte is still acting out, Jack is trying to put all the pieces together (isn't he always?), and somebody dies! The unexpected death isn't even this week's biggest shocker. Revenge really returns to form this week — the kind of form it was in last season, not this season's hot mess.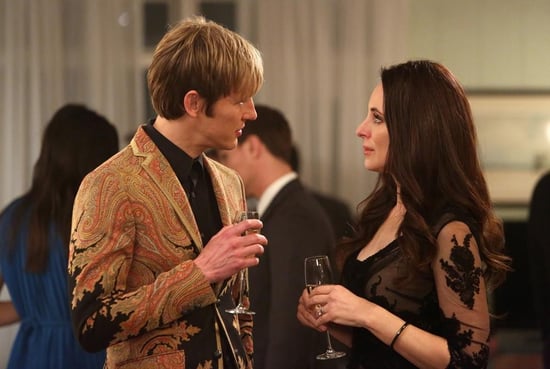 After all the twists and turns this episode, I can't wait to see how Revenge ties up all the loose ends (or doesn't) in next week's two-hour season finale. I'm ranking the biggest highlights after the jump.
Nolan and Aiden activate Carrion. I'm sure I'm not alone in thinking this season has been a major letdown, and I honestly thought we'd never get to see Carrion in action. I was wrong! Nolan pays a visit to master hacker Falcon in prison, where she informs him that not only did Victoria pay her first son, Patrick, to disappear in the '90s, but Falcon encoded Carrion with her "special touch," meaning it can't be activated without her password. Inevitably, Nolan figures out her code (her high score on Street Fighter), and just as he uses it to hack into the Graysons' bank account, a vengeful Aiden drains their savings. Emily rushes in, but it's too late! Instead of their bank account simply disappearing, though, Carrion is activated and New York City goes dark. Nolan, you fool! He is but a pawn in the Initiative's plan.
Aiden kills Takeda. Aiden finally figures out that Takeda is playing all sides, feeding into Daniel's hand, and challenges him to a sword fight. You read that right: a sword fight. Takeda has mad skills for an elderly gentleman, and for a while it looks at if he's defeating Aiden. But come on, like they're gonna kill off Aiden? Instead, Aiden impales Takeda, putting an end to his schemes. And the student becomes the teacher.
Emily and Daniel are engaged, and moving to Paris. Blah, blah, they're engaged again; as Victoria says, "How repetitious." Despite always being a couple steps behind the pack, I like Daniel and I'm not particularly fond of seeing him be played by Emily. This time around, they're not planning on being anywhere near Daniel's black widow of a mother; they're moving to Paris. Victoria is not amused. I am amused, but only because I'm 95 percent sure they'll never get to the Eiffel Tower.
Charlotte is pregnant. Charlotte is acting out hardcore with her new BFF, skipping Daniel and Emily's second engagement party to go clubbin'. When she gets picked up for underage drinking, Daniel comes to the station to bail her out, and she admits that she is with child. I have questions: Is Declan the father? The late Amanda just had a baby, and now we have to deal with another one? Does she know that drinking while pregnant is, like, super terrible for a fetus?
Jack finds out he's the reason Emily broke off her first engagement to Daniel. The truth finally comes out! As a token of reciprocity when Jack shows Victoria a questionable picture of Conrad and the governor's wife, Victoria lets slip that Jack was the reason Emily called off her first engagement to Daniel. He is incredulous. He is also, in my opinion, stupid. He demands to know the truth! Emily admits it to him out on the porch, but says times are different now (funny, 'cause the circumstances look pretty much the same to me) and they still can't be together.
What's your take on this week's episode? How are you hoping this season pans out?