Revenge Recap, Identity
Revenge: Ranking the Biggest Scandals From "Identity"
After viewing this week's episode of Revenge — aptly titled "Identity" — it's more obvious than ever that the show has lost its way. Since when am I supposed to be feeling pity for Victoria, who has requested help from an unlikely ally in search of her long-lost firstborn son? Why should I care about Charlotte, the poor little rich girl turning to a life of meaningless club-hopping and making out with girls in alleyways? Remind me: who is getting revenge on whom? I used to be firmly invested in the saga of Jack and Emily, and lately Jack is just getting on my nerves. This is one frayed revenge plot, if you ask me.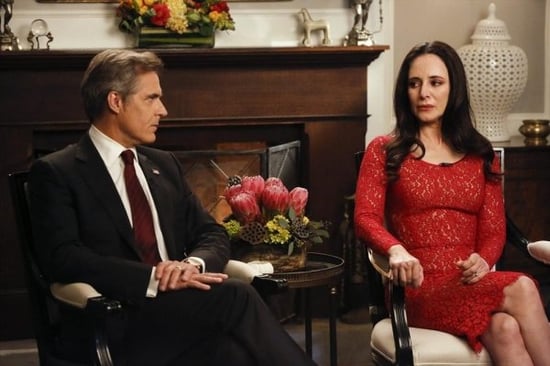 Despite the fact that the show is off the tracks, "Identity" does have its share of gasp-worthy moments as the Graysons are put on the spot during an in-home interview. Let's go through this week's biggest scandals when you read more.
The truth about Victoria's son is exposed. I know Conrad is new to all this campaigning business, but he should know better than to start answering a question without letting the interviewer finish it. He jumps to an answer about Victoria's son, assuring the Barbara Walters wannabe that Victoria regrets her decision to abort her first child, only to get blindsided when Victoria admits that "the story is true" about her giving birth to and abandoning the child. I actually feel bad for Conrad, even though he's a slimeball, because having the world know that your wife lied to you about something so huge is humiliating. Maybe he'll get the sympathy vote?
Victoria asks for Nolan's help in finding her son. It's really convenient to have a master hacker in your social circles, isn't it? I would never have suspected this unholy alliance present itself, but now that it has, I'm totally into it. Between Victoria's manipulative mind and Nolan's skills, these two would make a pretty good pair. The question is: will he help her?
Aiden gives Emily permission to marry Daniel. Awkward. Emily's gone back to Daniel in order to get in good with the Graysons again, except she's really on the fence about committing to her ex-fiancé, given that she's secretly still in a relationship with Aiden. When she's confronted with questions about their engagement during their strangely intimate interview, Emily claims that she would be honored to join the

Grayson

family. Daniel later gives her an ultimatum: either put her engagement ring back on or they're through. Remember the good old days when Emily was the hero and the Graysons were the villains? Emily's two-timing Daniel just makes me dislike her for victimizing an innocent party. Daniel never had any part in the death of her father, yet she's hurting him the most.
Jack revokes Emily's godmother-ship over Carl. Jack is not joking around after Amanda's death. Not only does he not want Emily around anymore, but he goes so far as to tell her he doesn't want her to be the baby's godmother anymore. I know he's going through a rough time and he's right in saying that Emily is the bringer of bad events, but I'm way over his petulant child act.
Charlotte is becoming

Paris Hilton

. Charlotte has made a new friend at school, one just as tortured (and rich) as she is. This girl is bad news, encouraging Charlotte to blow off Declan and "tear it up" with her out on the town. She even uses the phrase "embrace your inner bad girl." Embrace indeed, as a video of Charlotte making out with her new bud goes viral, inevitably finding its way to Declan.
What did you think of "Identity"?