Revenge Recap of "Illusion"
Revenge: Ranking the Biggest Scandals From "Illusion"
Illusion is the theme of this week's Revenge, and it's quite fitting for the Hamptons crowd, for whom nothing is as it appears to be. The episode revolves around Victoria and Conrad's swanky vow renewal, otherwise known as the fastest-thrown party in the East. Puppeteer Emily is back to work, having walked off the shock of her mother's return. The title of the show is Revenge, after all, not Emotions. Mason Treadwell is still sniffing around the scene, and thanks to some strategic manipulations, he may have put the pieces together.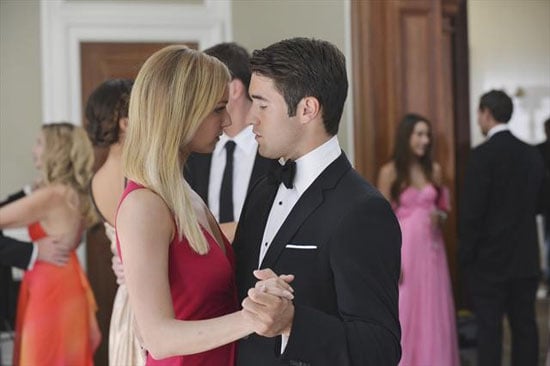 The shady Stowaway story takes a backseat as both Porter boys have significant relationship developments to be concerned with this week. Meanwhile, I did not get nearly enough Nolan. Find out what we did learn from "Illusion" when you read more.
Mason Treadwell might have figured out Emily's true identity. Everyone is attempting to throw Mason in different directions this week. Emily wants to shift attention to the Graysons, but Victoria lobs the ball back at her by hinting to Mason that Emily's a "juvie girl." Point, and match! I was actually a little surprised that it's him behind the yarn at the end of the show; I thought maybe it would be Ashley, as they intoned earlier that she may not be as dumb as she looks.
Emily frames Conrad for Gordon's murder. Anyone else excited to see Emily back in black? While I'm somewhat skeptical that that little girl could drag a frozen guy out of his icy hiding place and prop him up in a trailer alone, I applaud her efforts. Leaving Conrad's cufflink at the scene is a key detail, and she gets bonus points for making Conrad suspicious of Victoria. Well played, Emily.
Jack proposes to Amanda. Never before have I experienced an emotion so caught between "duh" and "noooo" as when Jack gets down on one knee and asks Amanda to marry him. We know it's coming, but can Amanda really go through with the lie? I'm waiting for her conscience to get the best of her. Truth be told, I never thought her character would become a regular on the show, so every week that she still stands, I'm amazed. In any case, the whole proposal scene just feels dirty.
Daniel isn't over Emily. It doesn't take a genius to know Daniel still has feelings for Emily, but he all but asks her to put the engagement ring back on when they're dancing at the reception. Poor Ashley; she'll just never measure up. What I wasn't expecting is that Emily seems like she might still love him too. Not only does she have that longing look in her eyes, but she defends him to Aiden later.
The Graysons are indebted to The Initiative. I still don't understand what the mysterious Initiative is — a supersecret society that runs the world, headed only by the country's wealthiest clans? Whatever it is, Victoria is terrified of it, while Conrad is looking chummier with the robotic-sounding woman who links him to the organization. Now that they've sprung him out of jail — using powers equivalent to a Congressional order — what will they call upon him to do?
What did you think of the episode? Are you glad Declan and Charlotte are back together? Where did Victoria put the other half of the picture with Gordon in it?